Master of Science in Athletic Training
We will begin reviewing applications in November of each year. Applications will be reviewed until we have filled all available slots. We encourage students if interested in the MSAT program to apply as early as possible.
Mission Statement
The mission of the Graduate Athletic Training Program at UNC Charlotte is to educate future athletic training professionals in the provision of high quality, culturally competent, evidence based care to improve health outcomes for physically active individuals and to advance healthcare understanding through research, scholarship, and service.
The UNC Charlotte Master of Science in Athletic Training program is a 58-hour program designed for students who want to become certified athletic trainers. The program is fully immersive, consisting of coursework and clinical rotations to give students the skills to become successful clinicians. Students will participate in five clinical rotations which are designed to have students learn the breadth of settings and patients athletic trainers work with. The last rotation is a fully immersive rotation that can occur anywhere in the nation.
Why Choose Our Program?
The program is designed to best prepare you for success on the Board of Certification examination

Our faculty continuously achieves regional, state, and national recognition as experts in their field in teaching, scholarship and research. They provide you with the personal attention, instruction, guidance and the mentoring you need

The program has a wide variety of clinical opportunities to help you best prepare for future job opportunities

The program will prepare you in evidence-based practice to help with clinical decision making

State-of-the-art labs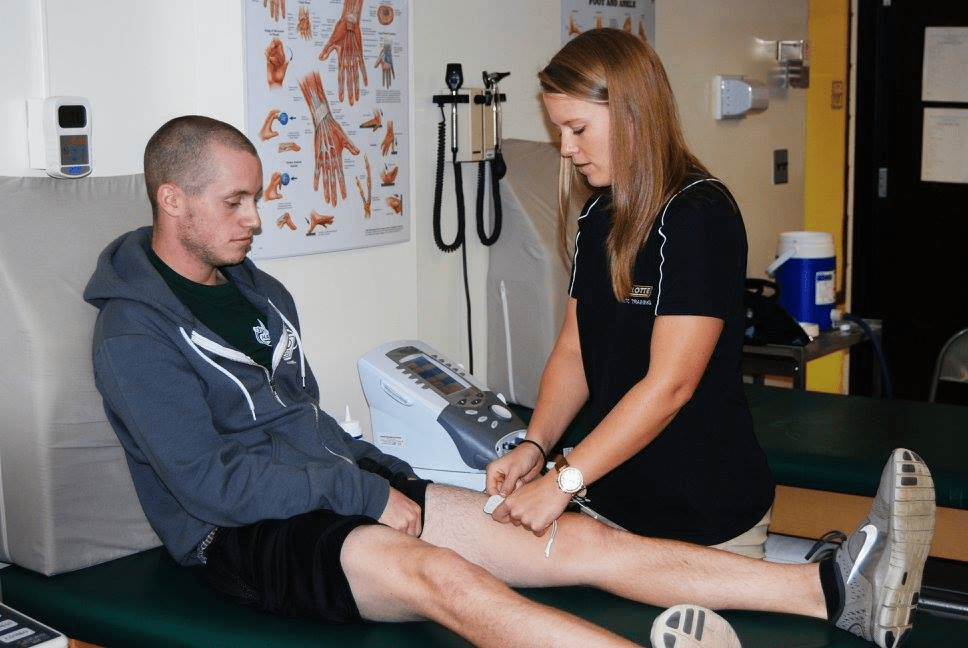 Career Options
Past graduates of our program are currently employed with:
High schools and hospitals

Professional sports organizations

NASCAR

Colleges and Universities

UNC Charlotte athletics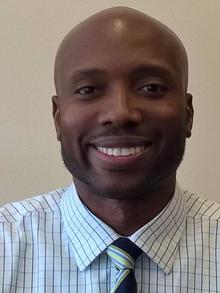 "Not only did UNC Charlotte prepare me for success immediately entering the workforce, it prepared me to continue to lead and cultivate my knowledge to further impact my community. The professors I had are leaders in their respective disciplines and extraordinary mentors. My time with them was invaluable and irreplaceable."

– Jessen Houston, MS, RDN, ATC, CSCS
Director of Sports Performance, Greenhill School
Coursework
Courses are designed around delivering the required educational standards from the Commission on Accreditation of Athletic Training Education programs (CAATE). Beyond accreditation requirements, the Athletic Training Education Committee has designed coursework to best prepare students to meet program goals and outcomes. We have a variety of coursework with hands-on activities and access to state-of-the-art equipment and supplies to best prepare students for success.
Hands-On Learning Opportunities
All courses include hands-on laboratory components so faculty and students can move seamlessly from lecture to simulations, practice and group activities. All courses are located in our state-of-the-art athletic training clinical classroom. Students get practice on all equipment you would find in athletic training facilities and hospitals/clinics. This ensures our students are up to date and have access to the equipment and supplies they will encounter in their clinical rotations.
All students will participate in five clinical rotations. These clinical rotations will expose you to a variety of settings that employ athletic trainers (high schools, universities, medical facilities) and patient populations (male/female, young/college-age/adults/geriatrics), being supervised by certified athletic trainers or physicians.
Are you ready to make a difference in the lives of the physically active? Click here to schedule a campus tour, learn about financial aid options, or contact the program director.
Contact Information
Program Director
Tricia H. Turner, PhD, ATC, LAT
Department of Kinesiology
Belk Gymnasium 227
thubbar1@uncc.edu
Phone: 704-687-0868
Fax: 704-687-0930
Clinical Coordinator
Shelley Linens, PhD, ATC, LAT
Department of Kinesiology
Belk Gymnasium 232
shelleylinens@uncc.edu
Phone: 704-687-0872
Fax: 704-687-0930
The Master of Science in Athletic Training program is accredited by the Commission on Accreditation of Athletic Training Education (CAATE) thru 2031-2032.