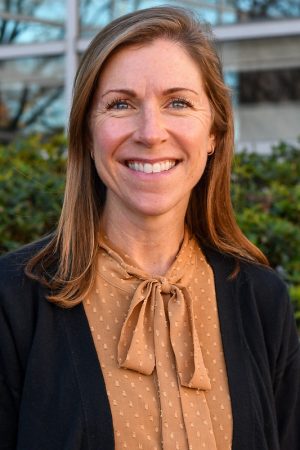 Juliana Marino
Lecturer, BS in Exercise Science Program Director
Certification:
American College of Sports Medicine Certified Clinical Exercise Physiologist; American Red Cross CPR/AED
Education:
Master of Arts in Exercise Physiology, Adelphi University, Garden City, NY Bachelor of Science in Biology, Mary Washington College, Fredericksburg, VA
Teaching Specialty:
Exercise Physiology, Principles and Application; Exercise Prescription
Originally from Long Island, Mrs. Marino earned her BS in Biology from Mary Washington College (now University of Mary Washington) in Fredericksburg, Virginia and her MA in Exercise Physiology with a Graduate Assistantship from Adelphi University in New York. Prior to joining the faculty at UNCC, Ms. Marino enjoyed her job as General Manager of a private health and fitness center in Toledo, Ohio for 8 years. In that capacity, she experienced invaluable real-world application of the principles of exercise physiology through programming, community education, personal training, and group fitness instruction. She enjoys sharing these experiences in the classroom to enhance her student's experience. Mrs. Marino is deeply committed to supporting both the intellectual and personal development of her students at UNCC. In her spare time, Mrs. Marino loves strength training, running, and playing with her 4 children.