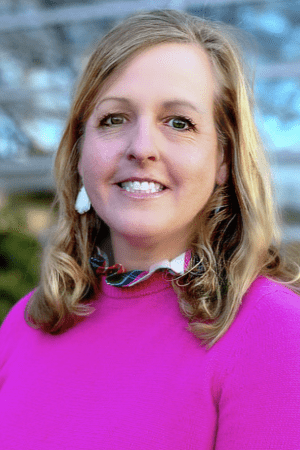 Tracy L. Bonoffski
Lecturer, Internship Coordinator
Academic Interests:
Nutrition, Wellness/Chronic Disease Prevention, Exercise Physiology
Certification:
Licensed and Registered Dietitian – Commission on Dietetic Registration Certified Exercise Specialist – American College of Sports Medicine
Clinical Specialty:
Exercise Science/Cardiac Rehabilitation
Education:
BS Cornell- Nutritional Sciences MS Wake Forest – Health and Exercise Science
Faculty Rank:
Lecturer
Personal Interests:
Traveling, Sports and Family
Practice Area:
Exercise Science/Nutrition
Research Interest:
Obesity, Sports Nutrition, Type I Diabetes
Teaching Specialty:
Clinical Exercise Nutrition, Nutrition for the Physically Active, Lifetime Weight Management, Exercise Laboratory, Internship
Prior to her appointment at UNC Charlotte, Ms. Bonoffski worked at the Northeast Medical Center in Concord as an Exercise Specialist in the cardiac rehabilitation program and as a Diabetes Educator for the Diabetes and Nutrition Center. Ms. Bonoffski has also worked as a full time dietitian for NASCAR, and also as a consultant with in providing expertise to teams and officials regarding their nutritional needs. Furthermore, as a licensed dietitian in the Charlotte area, she has worked with numerous athletes on their sport nutrition needs, as well as written articles for local publications. As lecturer in the Department, Ms. Bonoffski teaches in the areas of sports / exercise nutrition and exercise physiology.
Originally from upstate New York, Ms. Bonoffski earned a BS degree in Nutritional Science from Cornell University. While at Cornell, she also competed on the varsity swim team and competed in the Ivy League Championships. While pursuing her degree in Nutritional Science, Mrs. Bonoffski completed a dietetic internship at Syracuse University. After completing her undergraduate degree from Cornell, Mrs. Bonoffski earned her Masters degree in Health & Exercise Science from Wake Forest University. While earning her masters degree, Mrs. Bonoffski taught undergraduate courses in health & wellness.
Mrs. Bonoffski is a Registered Dietician through the American Dietetic Association and licensed in the State of North Carolina. Further, Mrs. Bonoffski is also credentialed as an Exercise Specialist through the American College of Sports Medicine and is active with the Juvenile Diabetes Research Foundation. In her spare time, Mrs. Bonoffski enjoys traveling, watching sports and spending time with family and friends.