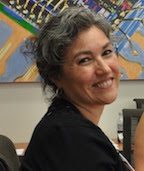 Yvette Huet
Professor of Kinesiology, Director of ADVANCE Faculty Affairs and Diversity Office
Education:
Ph.D. Physiology (with Honors), University of Kansas Medical Center, Kansas City, Kansas (1989) B.A. Human Biology; Microbiology, University of Kansas, Lawrence, Kansas (1984)
Research Interest:
Dr. Huet's research focuses on understanding the role of gonadal steroids (primarily estrogen) in normal physiology and adult diseases and the effects of neonatal exposure to environmental toxicants on development and adult disease. The goals of the research are to a) gain understandings of these processes and thus allow for the development of methods to prevent or treat diseases b) determine the effects of environmental estrogens on early pregnancy and in adult diseases.
Teaching Specialty:
Physiology, Endocrinology, Reproduction
Yvette Huet received B.A.s in Human Biology and Microbiology in 1984 from the University of Kansas, Lawrence, KS and a Ph.D. (Honors) in Physiology from the University of Kansas Medical Center, Kansas City KS in 1989. She then moved to Monsanto Company where she completed 2 years of postdoctoral work in Immunology. Dr. Huet joined the faculty of the Department of Biology at UNC Charlotte in 1991 as an Assistant Professor and was promoted to Professor in 2005. In 2013, Dr. Huet moved to the Department of Kinesiology. Dr. Huet currently collaborates with Drs. Howden, Arthur, and Marino in Kinesiology and Drs. Leamy and Oliver in the Dept. of Biology and Dr. Steuerwald at CMC. Dr. Huet is also the Director of the ADVANCE Faculty Affairs and Diversity Office.