Athletic Training Alum Saves High School Soccer Player's Life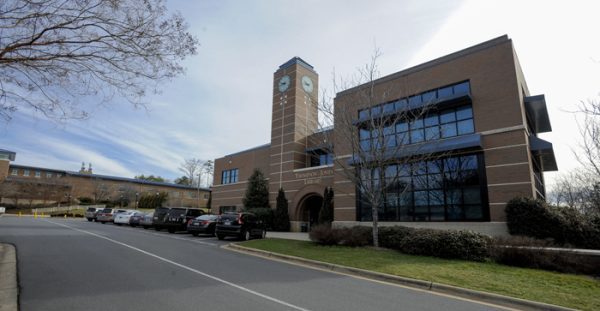 On an otherwise unremarkable afternoon, athletic trainer Heather Teague was making her rounds at Charlotte's Providence Day School team practices, when a feeling in the pit of her stomach made her stop. Teague trained her eyes on one of the school's many athletic fields. She hadn't been standing there for long when across the pitch, a JV soccer player broke stride while running and collapsed.
When she arrived at the athlete's side, he had no pulse and wasn't breathing. At that point Teague says her "instincts took over and all the steps and skill I had learned fell into place. The moment I knew something was wrong my priority was to do everything in my power to bring the athlete back."
She immediately began CPR. A coach who saw what was happening ran nearby and returned with an automatic external defibrillator, a device that uses an electrical shock to restore a person's normal heart rhythm. Teague hooked up the AED, shocked the high schooler twice, and his heart once again began to beat normally.
Paramedics soon arrived and took the student to the hospital, where he was fully stabilized. Doctors later discovered he was prone to the types of abnormal heart rhythms that led him to collapse that day, and he returned to school a week and a half later wearing a vest equipped with a defibrillator. The student is scheduled to have surgery to install an internal defibrillator.
His recovery likely would not have been possible had Teague, who graduated from UNC Charlotte's Athletic Training programlast spring, not been on the scene. She says even in the moment, she recognized time was of the essence.
"You have to know the signs of an emergency and be confident in your ability to execute the necessary actions without second guessing yourself. In these moments, the athlete only has you to depend on for their best interests."
Teague also acknowledges the role of Providence Day's emergency action plan for the positive outcome.
"It sets the stage for the steps needed in the worst-case scenario. It allows all the faculty and staff to be on the same page and expedite the actions needed for the best possible outcomes in a timely manner," she says. "In this situation it was the quickness of the response and the initiation of the school's emergency action plan by coaches that were responsible for saving the young man's life."
Her undergraduate experience in the athletic training program at UNC Charlotte equipped Teague with the necessary skills for those critical moments, she says.
"Each of my professors helped me to develop the mental readiness to keep my mind focused and calm in the midst of taking action."
The North Carolina Athletic Trainers Association recently featured Heather Teague as an "NC Lifesaver."