Multi-Million Dollar Belk Gym Renovation Benefits Kinesiology Department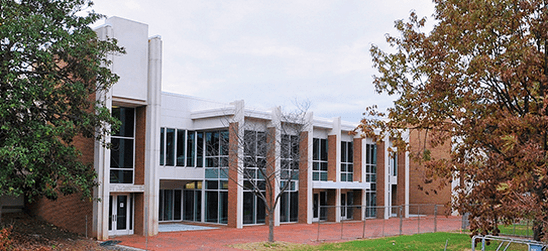 A freshly upgraded Belk Gymnasium is open for business following a nearly $20 million renovation.
Students and visitors to the facility will find vastly improved spaces for learning and physical activity at the home of the Department of Kinesiology. The department directly benefits from:
Enhanced and expanded classroom space. Almost 100 seats in five new high-tech classrooms, and better technology and background noise control
Enhanced and expanded teaching laboratory facilities, and an aquatics facility that will benefit the Exercise Science, Athletic Training, and MS in Kinesiology programs
Ample student gathering and study space
Completely redesigned and enhanced Department of Kinesiology office suite
Expanded and upgraded space for the Biodynamics Research Laboratory, which complements the Department's Laboratory for Systems Physiology in Cameron Applied Research Center
State-of-the-Art Health Risk Assessment Laboratory
Kinesiology department chair Scott Gordon said the renovation comes at an opportune time.
"Our enrollment has more than doubled over the past 5 years to nearly 1300 students. This renovation supports the Department's mission with numerous upgrades providing learning environments that will enhance student education and marketability upon graduation."
Gordon said the upgraded facilities are especially relevant to the department's increasing focus on biomedical research.
"The molecular and genetic bases of physical activity for health, exercise as a diagnostic or rehabilitation tool in clinics, mechanisms of musculoskeletal injury prevention and healing, and issues like respiratory health, sleep hygiene, and nutrition are within our areas of expertise. The renovation bolsters our ability to pursue these research agenda."
The new Belk Gym also features:
New fitness center and cycling studio
Air condition in the gymnasium and workout facilities
More than 8,000 square feet of dedicated fitness space
Redesigned exterior main entrance, façade and plaza
Redesigned lobby and visitor amenities
Refinished basketball courts
Day lockers and individualized shower stalls
Renovations to the pool will continue through spring.
Gordon, the Kinesiology department chair, said the project is an expression of Chancellor Dubois' continued efforts to unite UNC Charlotte across department and division lines.
"I appreciate the teamwork among Academic Affairs, Student Affairs, Facilities Management in Business Affairs, and other offices, all with the goal of best serving the student needs with this renovation."
Named in honor of Katherine and Tom Belk in recognition of their generosity and service to the University, Belk Gym was in near-constant use for decades prior to its closure in June 2014 for renovations. It is the administrative headquarters for the Departments of Kinesiology and Recreational Services.
---
by: Wills Citty