Professor Bret Wood Inducted into North Carolina Athletic Trainers Association Hall of Fame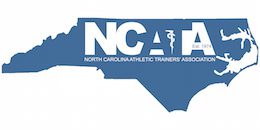 UNC Charlotte athletic training clinical coordinator Bret Wood is the 2016 inductee to the North Carolina Athletic Trainers Association Hall of Fame.
The award honors an NCATA athletic trainer with at least 20 years experience; nominees are put forward by peers and evaluated by the Board of Directors.
"There is a long list of nationally and internationally recognized athletic trainers in the NC Hall of Fame," Wood said. "It was quite an honor to be considered a part of that group. It was certainly a welcome surprise."
Over nearly three decades at UNC Charlotte, Wood has served in a variety of leadership positions in athletic training. He was the University's head athletic trainer from 1988-2000, served as interim director of athletic training education on three separate occasions, and has been clinical coordinator since 2002.
"Bret Wood is that rare and valuable type of faculty member that brings extensive professional experience to his students in the classroom," said Scott Gordon, Chair of the Department of Kinesiology, noting that Wood's background colors his teaching style and enriches the student experience.
Integrating technology into the classroom has been a consistent goal for Wood, who presented on the topic at an international conference in Spain last July.
Over the past year he has also helped design an online educational portal for NCATA that allows athletic trainers worldwide to get quality continuing education at a reasonable price.
In his Hall of Fame induction announcement, NCATA noted Wood's willingness to support his fellow athletic trainers and sports medicine professionals. Wood's commitment to helping others was also recognized nationwide in 2016 with his receiving a National Athletic Trainers' Association Service Award.
"His passionate promotion of student success and the athletic training profession within the State of North Carolina is just one reason that he deserves this great honor, and we are very proud to call him a member of the Department of Kinesiology at UNC Charlotte," said Gordon, the department chair.
Bret Wood received his Bachelor's degree from West Virginia University and his Master's in Health Promotion from UNC Charlotte.
Watch him discuss the diagnosis and treatment of concussions on UNC Charlotte's Livewire program below.
---
by: Wills Citty