New Program Provides Free Health Screenings to Hundreds of Seniors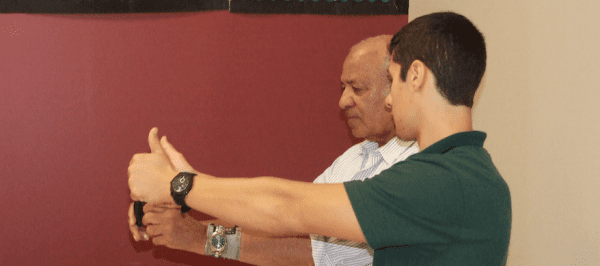 Hundreds of Charlotte seniors will receive detailed screenings and critical health interventions through the Department of Kinesiology's Health Risk Assessment Lab as part of a new program funded by the Sharon Towers Continuing Care Retirement Community.
A donation of more $150,000 from Sharon Towers will pay for four graduate assistants and equipment for health risk assessments in Mecklenburg County Park and Recreation senior and multigenerational centers. The new assistants will join two already working in senior centers across the county.
"An exciting aspect of the free program is that it includes at-risk populations in Greater Charlotte who may not otherwise have immediate access to such services," said Dr. Scott Gordon, chair of the UNC Charlotte Department of Kinesiology. "Our goal is to provide individualized feedback and education to all participants concerning their health risk numbers, and then reduce their risk through an exercise program or referral to their physicians when necessary."
"It's very helpful. As older adults we need to be constantly monitoring our health." said Barbara Moses, a 65-year old Charlottean who attended a recent screening at the Bette Rae Thomas Recreation Center. Moses said she appreciated that the screenings were offered at community centers because many seniors rely on public transportation or family members to get around. Dozens attended the screening at Bette Rae Thomas.
The initial 12-month agreement will be worth around $15,000 to each graduate assistant, all of whom are current master's students in the Department of Kinesiology.
Faculty and students in the UNC Charlotte Health Risk Assessment Program will perform four free health risk assessment testing events at the centers throughout the year. Between health risk screening events, graduate assistants will be placed at each center to provide personalized physical activity programming, targeted toward improving health risks in individuals based upon their personal health risks identified by the assessment screening.
Juliana Mills is one of the graduate assistants funded by Sharon Towers' donation. She described her experiences at Charlotte recreation centers as educational and rewarding.
"Being a part of this effort has given me greater insight to local communities, their health needs, and how we can help address those needs through physical activity. It is wonderful to work my peers and mentors as this program develops and to be involved in such a positive mission."
In addition the screening at Bette Rae Thomas, the agreement funds health risk assessments at the Tyvola, Shamrock and North Mecklenburg Senior Centers, as well the Mallard Creek and Southview Recreation Centers.
Among the health risk screenings that can be performed are:
· Lifestyle Questionnaire – identifies modifiable lifestyle factors affecting health risk
· Body Composition (% body fat, body mass index) – to identify overall risk of chronic disease
· Blood Pressure – identifies risk of hypertension
· Blood Lipid Profile – identifies risk of cardiovascular disease
· Blood Sugar and HbA1c Measurement – identifies risk of diabetes
The graduate assistants are responsible for prescribing exercises, leading group exercise classes and providing motivation and guidance to participants. They will also keep records of training activities that will be used to track and measure the progression of their participants. The ultimate goal of this partnership is to create a program handbook that can assist the centers in establishing their own physical activity or other risk-reduction programs.
"Sharon Towers is committed to serving older adults in the Charlotte market beyond the walls of our community," said Kelly Stranburg, Director of Vitality and Well-being at Sharon Towers. "Investing in a project where older adults could learn about various aspects of their health and integrate positive or preventative programs is in alignment with our mission and long-term strategic plan."
The assistantship began in August 2016 and will last until August 2017.