Donation Boosts CHHS Health Outreach at Charlotte Community Center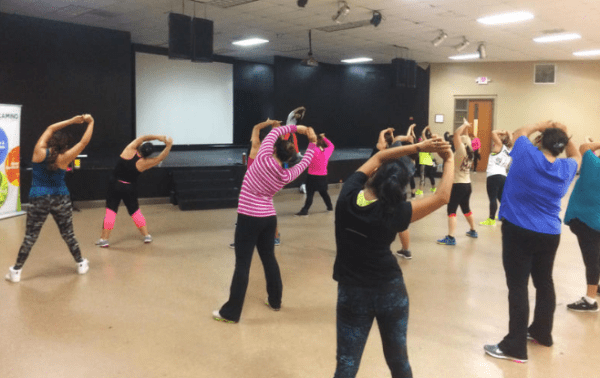 The UNC Charlotte College of Health and Human Services is elevating ongoing efforts to address health disparities in the area following a $44,000 donation from Blue Cross Blue Shield of North Carolina. The donation will fund an on-site graduate assistant, health risk screenings, and exercise programming at a north Charlotte community center that serves low-income Hispanic clients.
BCBSNC's $44,000 contribution will support programming administered by Anna Tart, the GA, who is earning a master's degree in the Department of Kinesiology.
The clients at the Bethesda Health Center, housed in the Camino Community Center in Charlotte, are almost exclusively Latino or Hispanic; 35 percent of those that take advantage of the free clinic have diabetes.
Bethesda is a free clinic serving low-income, uninsured people in Mecklenburg County. The non-profit provides adult primary care, diabetes and hypertension management, and health education programs. Bethesda has served over 3,500 patients and provided health fairs as well as more than 8,500 doctor visits since it opened its doors in 2004.
"I love these people. I love just the feel of their community," said Tart, who will work at the center for the next two years.
In the U.S., the Latino and Hispanic populations are at high risks of metabolic diseases such as type 2 diabetes, cardiovascular disease, and obesity. An estimated 22.6 percent of Latinos and Hispanics already have Type II Diabetes, while 49 percent of them are unaware that they do, making early detection and intervention particularly important in these communities.
Health risk screenings that can be performed include:
· Lifestyle Questionnaire – identifies modifiable lifestyle factors affecting health risk
· Body Composition (% body fat, body mass index) – to identify overall risk of chronic disease
· Blood Pressure – identifies risk of hypertension
· Blood Lipid Profile – identifies risk of cardiovascular disease
· Blood Sugar and HbA1c Measurement – identifies risk of diabetes
Tart is responsible for designing activities and administering health risk screenings for clients at the Bethesda Health Center. Throughout her assistantship, Tart will document her activities and programs, set goals, monitor and measure their success, and create a handbook that can assist other community health centers in establishing a similar program.
"I have always wanted to find a way to put together the two things I love the most, exercise and Spanish. This position has given me the opportunity to do just that," said Tart. "I am hoping that by the end of my two years here at Camino I will have implemented an exercise program that will bring in a different variety of people."
All tests are initial screenings, and people with elevated risk factors will be counseled to visit physicians for follow-up and official diagnosis.
Lifestyle behavioral modifications are just as important as health screenings because they are an inexpensive way of preventing, and often times, reversing the progression of risk factors or overt diseases. The Department of Kinesiology Health Risk Assessment Program focuses on physical activity interventions and can provide these services for individuals at the Bethesda Health Center deemed healthy enough to participate.
· Physical Activity Counseling and Exercise Prescription – based upon health risk screening results
· Group exercise classes led by Tart
· Periodic text messaging to participants
· Periodic follow-up health risk screening to assess progression
Three colleges from UNC Charlotte have an ongoing relationship with the Camino Community Center. Representatives from the College of Health and Human Services, College of Liberal Arts and Sciences, and College of Education and are part of a program called Academy for Research on Community Health, Engagement and Services (ARCHES). ARCHES develops and supports impactful research and training partnerships and programs for reducing health disparities among vulnerable populations in high-risk communities.
"We're really listening to what the community needs are, what they're most passionate about, worried about and pairing that perfectly with what we can do to help," said Nancy Fey-Yensan, Dean of the College of Health and Human Services.
Tart is excited about the program and ready to make an impact of the Camino community. "I hope to gain from this a fluency in the language and also a personal connection with this community so that I will be able to efficiently and effectively spread the love, need, and importance of exercise to this group of people," said Tart.
Charlotte City Councilman Greg Phippds, who represents University City, said UNC Charlotte's outreach in the area is impactful.
"It's evident by the growth that they've experienced in the community that those programs are really having a tremendous effect on delivering these types of services."