49er Perspective: Respiratory Therapy Student Dean Van Hart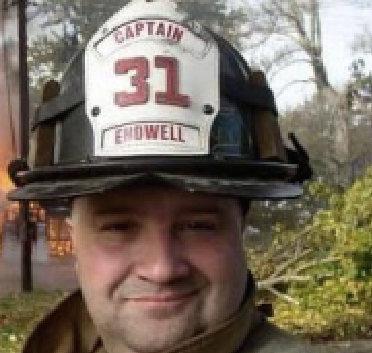 49er Perspective tells the story of the College of Health and Human Services through the eyes of our students.
by: BSRT student Dean VanHart
I have worked my way through life, and started my educational journey by working while taking classes, both full-time, to receive my Associates Degree in Paramedic Sciences. Throughout my career, when I worked with patients and brought them to the emergency room I would often turn over care to respiratory therapists. They would always ask me, "Dean, when are you going to respiratory school?" I always considered emergency medical services my life, so I shrugged it off and thought, "yeah, right."
After roughly fifteen years in the emergency medicine field, I found myself needing surgery on my back, and at a crossroads in my life. This was caused by years of wear and tear while assisting patients. It was a turning point, as the potential of moving into a career that was less abusive on my back started to look more appealing.
While continuing to work full time as a paramedic to pay for my education, I earned an Associate's Degree in Respiratory Care. After graduating, I worked in a local hospital for roughly six years before I had the opportunity to work for the Duke University Hospital in Durham. While at Duke, I heard many stories from co-workers about their experience at UNC Charlotte.​
I always wished there were a way that my two associate's degrees could transform into a bachelor's. My next best option to continue learning more about my profession, improve my knowledge base and enhance patient care was at the UNC Charlotte Bachelor of Science in Respiratory Therapy program through distance education.
Though I haven't spent much time on campus, I am proud to say I feel like part of Niner Nation. The very best part of my journey at UNC Charlotte has been the wonderful professors and staff. Whether by phone or by email, all my questions and concerns have felt important to the staff. The transition to college life was smooth because the staff and faculty possessed were prepared to help students like me.
Continuing my education has spurred personal and professional growth. As I approach graduation in 2017, I want to continue to promote my profession and grow as part of the healthcare team at Duke. My advice to students thinking about returning or who are on the path is to be strong! I know you have a lot on your plate, but if you want something just reach for it. Many times we say, maybe next year. Yesterday is history, today is a gift, and tomorrow is a mystery.
Make your tomorrow what you want. UNC Charlotte can help get you there! I could not be more thankful to the staff and professors for their knowledge and understanding. I am proud to be a Forty Niner!