VENTURE OUTDOOR LEADERSHIP ADDS NEW ELEMENTS TO CHALLENGE COURSE
Imagine being 25 feet in the air, balancing atop a telephone pole. Your legs are trembling at the sight of the ground below, and you are connected only to a single safety rope. Your next move will require focus and determination. So, you breathe in deeply and jump.
Participants will experience this anxiety-producing thrill with either of two new elements recently installed at Venture Outdoor Leadership's high team challenge course located off Alumni Way.
Dave Sperry, Venture Outdoor Leadership director, had three goals in mind when he and his team began thinking about elements to add to the high challenge course, which already featured 17 elements.
The first goal was to incorporate an individualized challenge into the course. The second was that the new elements must be physically challenging. The third, and most important to Sperry, was to round out Venture's educational offerings when it comes to training student facilitators.
In June, Phoenix Experiential Designs finished installing the elements that best fit Venture's requirements: A Pamper Pole (also known as the Leap of Faith) and Dangle Duo (also known as Giant's Ladder).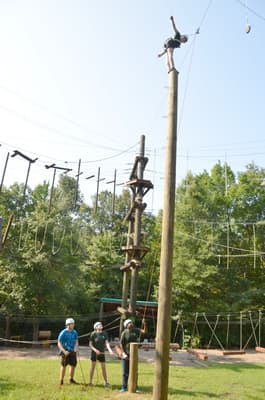 "Having these activities allows us to cover every style of activity that is available in challenge course programming," Sperry said. "As we're training facilitators, they haven't had the ability to see this type of belay system before. It gives a broader variety of activities so that when our facilitators leave UNC Charlotte, they are familiar with and prepared for almost any type of facilitation they are likely to encounter at other programs."
Approximately 25 student leaders will be trained on these new elements this semester, and Venture professional and student staff members will facilitate approximately 5,000 participants in team challenge course programs in an average year.
Sperry describes the Pamper Pole, a 25-foot telephone pole, as a classic challenge course element that requires participants to explore their reaction to anxiety and their ability to trust their team on the ground. Those who wish to experience the challenge will scale the pole with the goal to stand on top, breathe in deeply and then leap for a suspended ball.
"It is one of the few elements we have out here (at the challenge course) that is a completely individual-based challenge," said Sperry. "To me, by far, the most difficult thing is being able to get on top of the pole. You're dealing with a lot of fear and anxiety. What catches people off guard is, when they get to the top, how much sway there is. When you get nervous and your knees start shaking, the whole pole starts swaying."
While the Dangle Duo might appear less intimidating than the Pamper Pole, Sperry said it is still a challenge, and participants don't always realize that until they start climbing. This partner activity requires problem solving, physical strength, balance, determination​ and teamwork to reach the top of the ladder.
"We're trying to get people to realize that they are capable of more than they think they are, and both of these are powerful tools for that," Sperry said.