Remembering Roy Fielding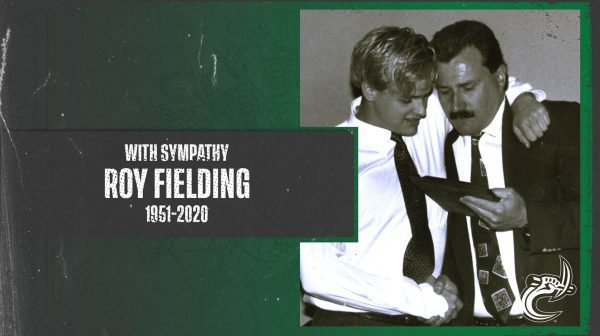 The UNC Charlotte College of Health and Human Services extends sympathy to the family and friends of former senior lecturer Roy Fielding, who passed away Friday.
Fielding had been a fixture at the university since 1977 through his recent retirement. He served as lecturer, aquatics director and senior lecturer in the Department of Kinesiology during his career with the university. UNC Charlotte's Belk Gym Pool was named "The Roy R. Fielding Aquatic Center" in his honor.
"Roy Fielding leaves behind a legacy of mentoring students, faculty and staff," said Dave Bellar, chair of the Department of Kinesiology. "He touched the lives of many and the Department and University are better as a result of his caring and compassionate nature. He will be deeply missed, but he has left behind a lasting legacy."
Fielding served as head coach of the 49ers men's and women's swimming and diving teams from 1989-1992. He was named Atlantic Swim Conference Men's and Women's Coach of the Year in 1990 and was the Southern States Women's Coach of the Year in 1992.
"The Pool Professor" was recently named one of the most influential individuals in aquatics in the United States by Aquatics International Magazine in its Power 25. Roy is a member of the University of Northern Iowa Athletic Hall of Fame for swimming and also the School of Health, Physical Education, and Leisure Studies Hall of Excellence.
Fielding continued to support the 49ers following his stint as head coach and was a valuable resource for the athletics department and the university throughout his long standing tenure.
Roy and his wife Mary Gaye recently established the Mary Gaye & Roy Fielding Athletics Development Fund to benefit future generations of Charlotte 49ers student-athletes.
"Roy was a huge fan and supporter of Charlotte 49ers Athletics," said Mike Hummer, Executive Director of the 49ers' Athletic Foundation. "He was a regular at 49ers basketball and football games. He was an original FSL holder and enjoyed tailgating with family and friends. He was a consistent and generous contributor to the Charlotte 49ers Athletic Foundation helping provide scholarship assistance for student-athletes.
Roy will be thoroughly missed by all of us with the Charlotte 49ers who were lucky enough to call him a friend. Our heart breaks for the loss of Roy and our thoughts and prayers are with Mary Gaye and the entire Fielding family."
Mary Gaye, Roy's wife, welcomes donations to their UNC Charlotte student support funds as an expression of sympathy in lieu of flowers. Please consider honoring Roy's memory in this way. Visit crowdfund.uncc.edu/RoyFielding to make a gift.