Charlotte Observer: Exercise Science Alumna Perseveres for Career in Air Force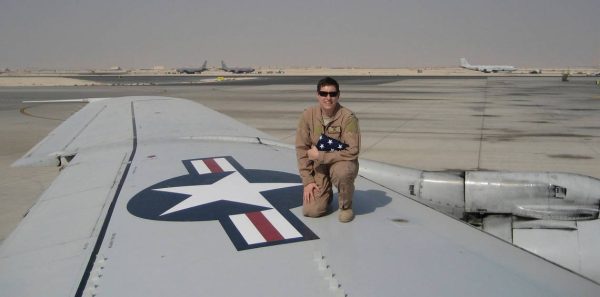 by: Theoden Janes, Charlotte Observer
This was to be a celebratory spring for Alison Cruise.
The UNC Charlotte alumna learned last summer that the U.S. Air Force would promote her to major this May, and she was excited by the prospect of her 3-year-old daughter Shiloh pinning the new rank insignia on her uniform in a formal military ceremony full of pomp and circumstance followed by a party packed with loved ones.
But in early March, the coronavirus threat began picking up steam, prompting the base where she's been assigned since last November — Robins in Warner Robins, Ga. — to begin sending high-risk personnel home. Then, on March 31, by which point the base had largely emptied following a number of confirmed cases, Cruise learned that she in fact was among those high-risk personnel: She was diagnosed with breast cancer.
On April 20, she had a double mastectomy. And on May 1, the day Cruise was officially promoted, she pulled on a uniform shirt that her wife Megan had cut open in the back (since she couldn't yet raise her arms above her head) and went out on the front porch of their home in Bonaire for as formal a ceremony as they could muster.
"That ceremony that we do is really about celebrating your family," she says, "so we had to get a picture of my daughter putting the rank on. It's a must-have memory."
No, it wasn't quite how the 39-year-old Winston-Salem native and mother of three envisioned it. Yet (the cancer and the COVID-19 pandemic aside, of course) Cruise is as happy as she's ever been, and feeling as positive as she's ever felt about her Air Force career — which was launched by 9/11 but for years was "a constant struggle," emotionally, due to the military's "Don't Ask, Don't Tell" policy.
With Memorial Day and Saturday's Armed Forces Day fresh on our minds, Cruise's story underscores the fact that while all servicemen and women are making a sacrifice for their country, each individual's sacrifice is unique — and hers is particularly powerful.