Meet CHHS Dean Catrine Tudor-Locke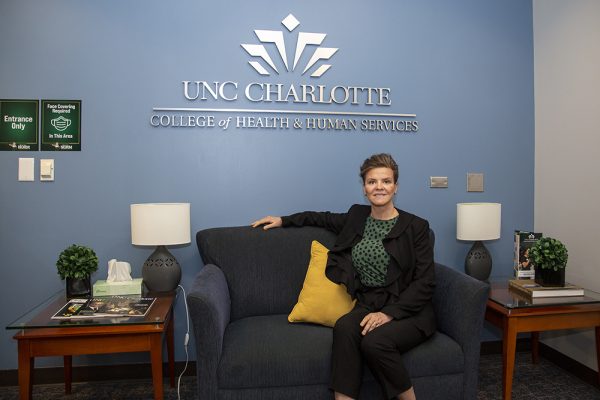 Visitors to her office at the UNC Charlotte College of Health and Human Services will sometimes hear Dean Catrine Tudor-Locke before they round the corner leading to her door. She has a laugh that carries. You might also be greeted by the drumbeat of her shoes as they connect with the treadmill under her standing desk. As she approaches a year and a half of her tenure as dean, and many months during which visitors were not possible, the globally recognized expert on walking behavior is moving the college forward the way she always has herself, one well-calibrated step at a time.
THE FIRST GENERATION
Growing up on a farm in rural Canada, Tudor-Locke liked to stay active from a young age.
"I was actually one of those kids who couldn't hold her body weight up on the pull-up bar, and didn't do well at P.E. at first," she says. "But I kept registering for it because I enjoyed it: running around, the feeling of diving into a pool, falling onto an exercise mat."
As a teenager, her love of physical activity led her toward a position at the local YMCA where she taught swimming and rose to a youth leadership position. She then broke a barrier by becoming among the first generation in her family to go to college; it's a milestone that carries a significance that resonates with Tudor-Locke to this day.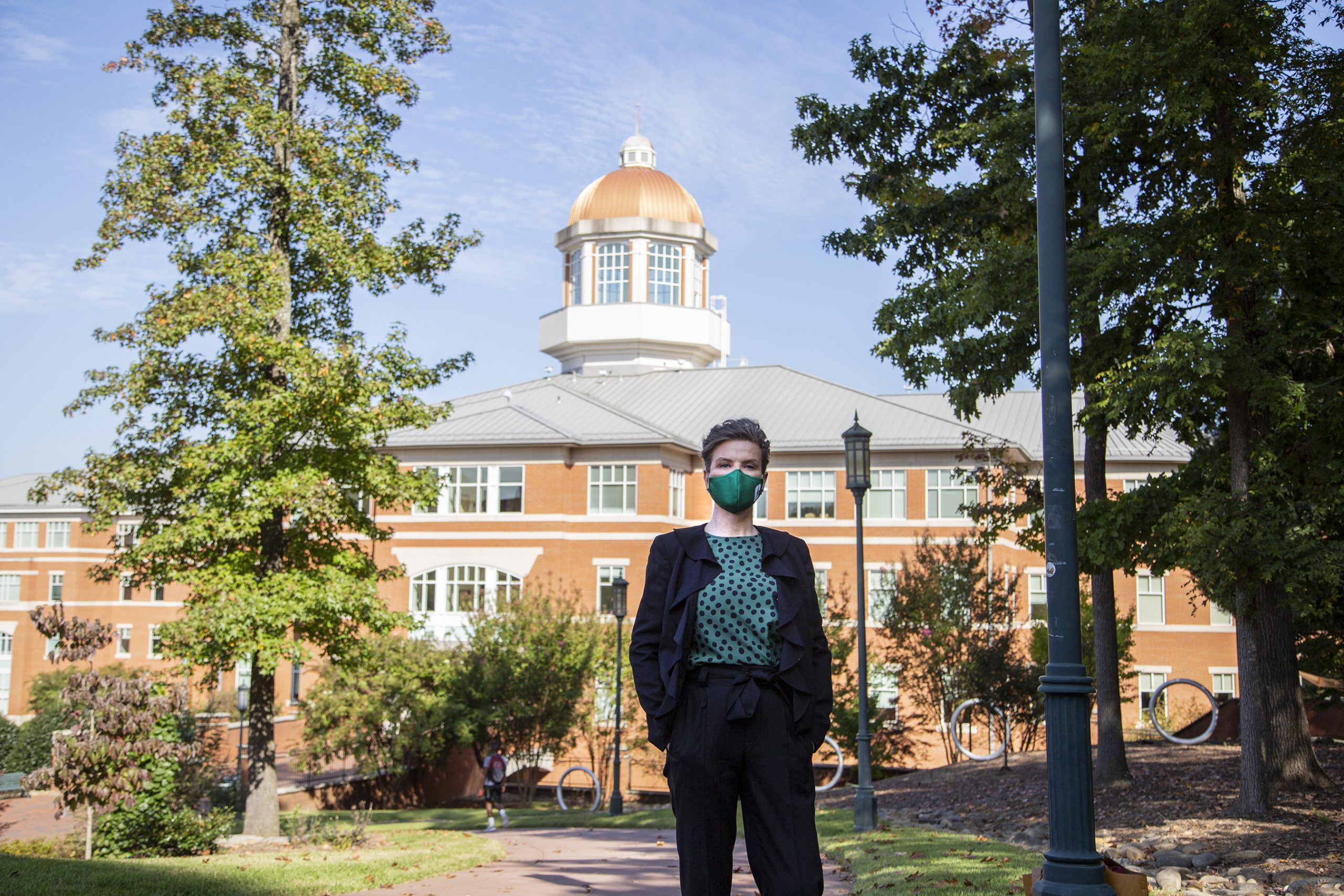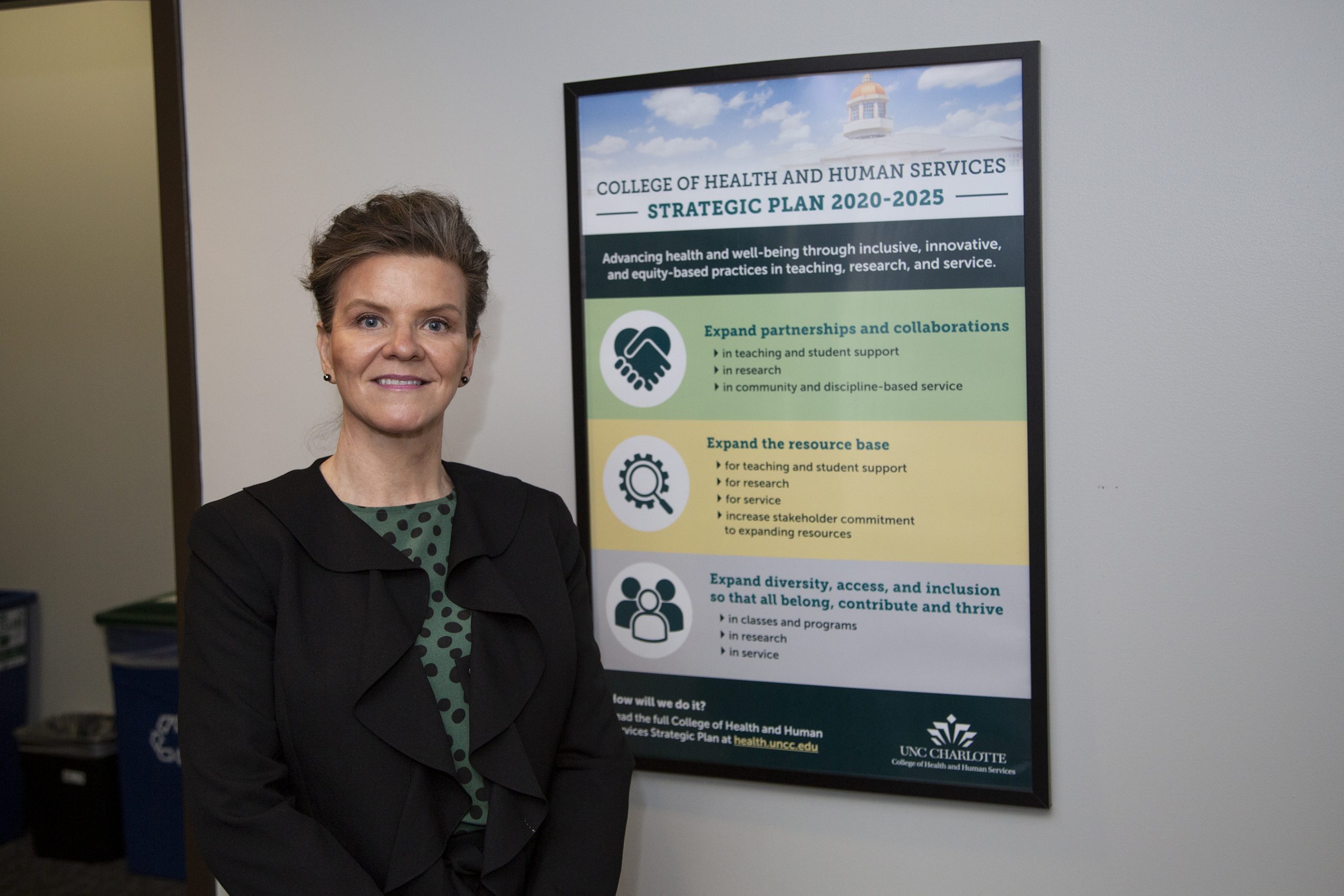 "My father was a farmer. My mother was pulled from high school to take care of her siblings, had her own family and never worked outside the home. My father passed away when I was 16 and I lost my mother when I was 23. I took my $1,400 inheritance and moved forward because that was the only option available. Advanced education was my opportunity to reinvent myself," she says.
Tudor-Locke's vision of UNC Charlotte as a home of opportunity, and the fact that 40% of students at the University are, like her, first-generation college students, was one of the factors that drew her to the deanship.
LEARNING FROM ONE ANOTHER
Tudor-Locke joined UNC Charlotte from the University of Massachusetts Amherst, where she was associate dean for research and administration in the School of Public Health and Health Sciences and prior to that chair of the Department of Kinesiology. Her broad interdisciplinary expertise in the health and human services fields is one of the many reasons she thrives in her role at UNC Charlotte.
The College of Health and Human Services academic units have common throughlines, but are distinct. They include the Department of Kinesiology, Department of Public Health Sciences, School of Social Work, School of Nursing, and the interdisciplinary School of Data Science.
Interdisciplinarity has long been a strength of CHHS, and is a trait Tudor-Locke believes should be a focus of the scientific fields.
"Advancement comes when you're at the edge of your knowledge and when you interact with someone who has a different perspective, a different understanding, a different way of knowing, it allows you to feed off their ideas with your own perceptions and build out from there," Tudor-Locke says.
The College's research academies have that philosophy in mind. Among the five CHHS hosts, the Academy of Population Health Innovation (APHI) and Academy for Research on Community Health, Engagement and Services (ARCHES) offer examples of collaboration in action. The academies tap into a second guiding principle for Tudor-Locke and the college she leads: a people-focused approach.
"You have to be out in the community talking to the people; you have to find out what the issues are beyond the laboratory. It's where the application of knowledge happens," she says. "We have to engage with the community and find out what their strengths, resources, and interests are, and work together to solve the health concerns that face us."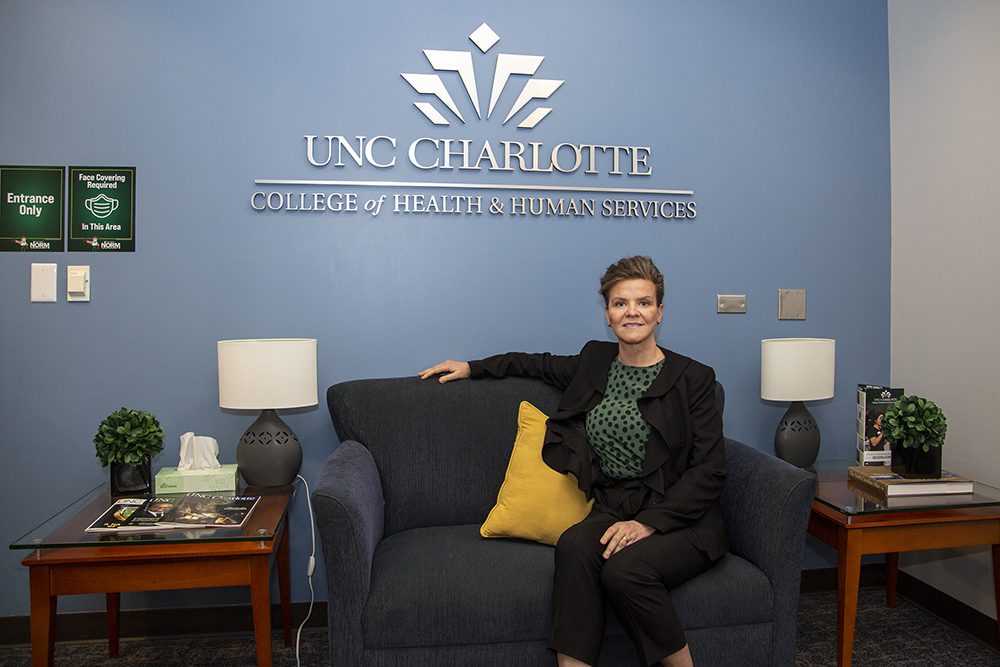 A LEADER IN THE FIELD
Heart disease and diabetes are public health issues that affect millions of people each year and are a focus for researchers across the globe, yet remain stubborn to solve. In an expression of the persistent reality that simple actions over time can solve complex problems, Tudor-Locke's research trajectory began with discovering that counting steps can help people with Type II Diabetes, a group for whom finding the right exercise regimen is often a challenge.
"Academics talk about energy expenditure, percent CO2, percent heart rate — and people's eyes glaze over. Step counting is something everyone can wrap their heads around and use to reach goals that can benefit their overall health," she said.
One of the pioneers in the area, Tudor-Locke has established an internationally-recognized research program on the promotion of walking throughout the lifespan and the development of objective measures of physical activity using wearable technology.
RESPONDING TO COVID-19 AND THINKING FORWARD
There's also the matter of transitioning to a leadership role at a health organization in the midst of a pandemic. For Tudor-Locke it has not been a burden, but rather an opportunity to do what experts in the helping professions do best.
"CHHS has been on the leading edge of responding to the pandemic," she says. "Our social work and public health faculty have been consulting with the media on a weekly basis to provide guidance to a country looking for answers. Alumni working in those fields have responded to the needs of people across the country directly through mental and public health services. Our respiratory therapists and nursesare critical frontline workers responding to COVID-19. Our group from kinesiology has helped people learn how to stay active even when so many of us have been confined to our homes."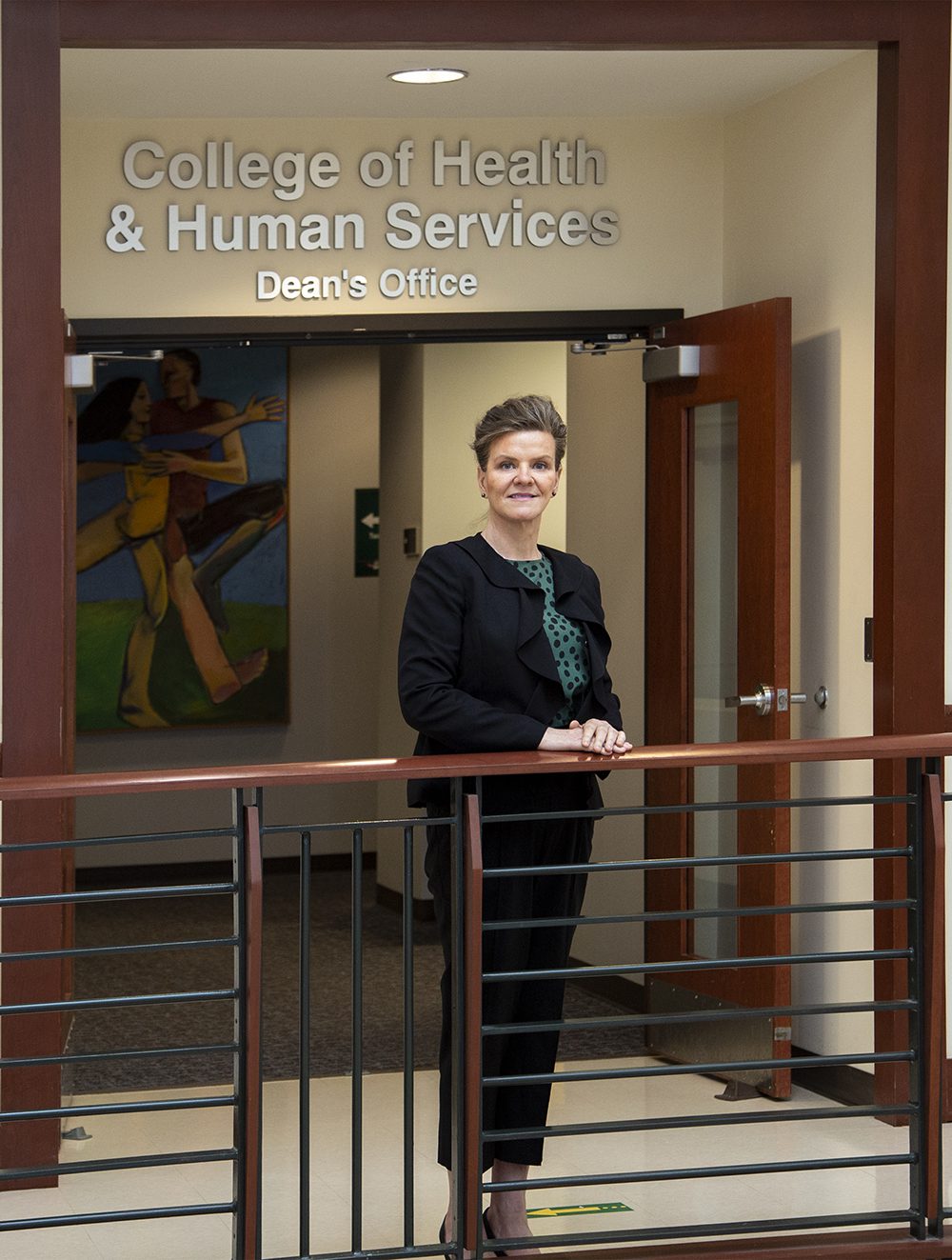 While navigating the need to connect with the community and lead a faculty striving to provide a high-quality learning experience for students, Tudor-Locke is also constructing a new five-year strategic plan with a team of leaders from the College, which will align with the University's strategic plan to be completed in April. They leaned back into the utility of simplicity, and emerged with three priorities:
Expand partnerships and collaborations
Expand the resource base
Expand diversity, access, and inclusion so that all belong, contribute and thrive.
These tenets will be brought to life in detail through plans created by the individual academic areas, each expressing the belief that we can grow productively into tomorrow from what we were today.
Whatever our ambitions, Dean Catrine Tudor-Locke understands better than most that we have to take it one step at a time. "When we set ambitious goals and dedicate ourselves to them, we can reach places beyond where we once thought it possible to go," she said.