New Program to Offer Sports Analytics Internships with Charlotte 49ers Athletics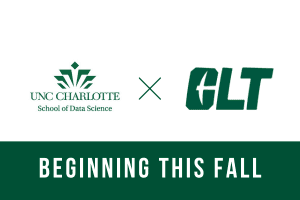 The Charlotte 49ers Athletics Department has partnered with UNC Charlotte's School of Data Science (SDS) and the Department of Kinesiology to provide sports analytics for each of the 49ers' 18 athletic programs. The new internship program, which is set to launch in fall 2021, offers students the opportunity to gain invaluable, "on-the-field" industry experience.
"Our partnership with the School of Data Science is a shining example of the advantages we have at this great university, and we relish these opportunities to collaborate," said 49ers Director of Athletics Mike Hill. "Analytics plays such a huge role in sports today, and we have world-class experts right here to help the Niners build a championship program."
SDS will pair at least one student intern with each athletic team for a semester-long internship experience. The interns will execute projects designed by the school in conjunction with the particular sports program. As full-time students, they will work approximately eight to ten hours per week to gain experience in data science, athletics and sports analytics.
"Analytics in the sports industry is here to stay," said John Tobias, sports analytics lecturer for the School of Data Science and the Department of Kinesiology. "As the field continues to develop as an industry standard among professional sports and elite collegiate athletic programs, this partnership will help to provide UNC Charlotte students a competitive edge in data analytics."
Interns will be selected based on prior analytics knowledge and experience, preferred sports program and a demonstrated passion for sports analytics.
SDS has previously partnered with individual collegiate and professional sports teams to provide data-driven solutions through analytics. This new internship program allows the school to support each 49ers athletic team and forge a stronger partnership with the entire Athletics department.
Learn more about the School of Data Science and the sports analytics program. For additional information, please contact John Tobias at jtobias@uncc.edu.
Students who are interested in applying for the SDS / Charlotte Athletics analytics internship program must submit all required materials here. The deadline to apply is Monday, May 24.