Virtual Dissection Table: The New Standard in Health Education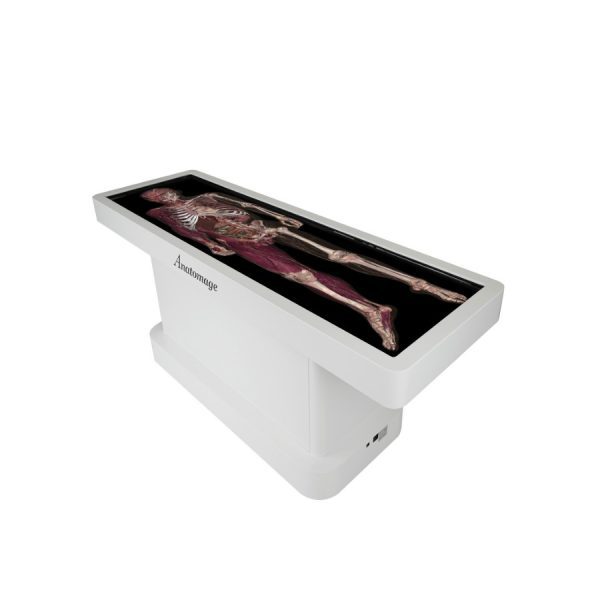 The Anatomage Table is the most technologically advanced 3D virtual dissection and anatomy visualization tool in the world. Students now have access to a whole new level of learning.
With a swipe of his finger, UNC Charlotte simulation technician Ashton Atmore adjusts the brightness on the 81-by-28-inch touch screen display, revealing each layer of the body in vivid detail.
"I've never seen anything like this," he said. He performs an incision and rotates the 3D image 360° to demonstrate the practically infinite ways images can be manipulated.
"Students can dissect the body along any plane," Atmore explained. "The versatility of the interactive features encourages intuitive learning and allows for a much more precise understanding of the body's complex, interconnected relationships."
Over the summer, the University invested in an Anatomage Table, the most technologically advanced 3D virtual dissection and anatomy visualization tool that exists. It looks and functions like a high-tech tablet the size of an operating bed and presents three-dimensional, life-sized images of cadaver samples. It's housed on the third floor of the College of Health and Human Services building.
"This represents our first foray into 3D simulation for anatomy and physiology education," said School of Nursing director Dena Evans.
"UNC Charlotte is one of only five schools in the state that have one," she added. "There are less than 100 of these tables in the U.S. and only 300 in the world."
It is already being used at top medical institutions like Stanford and the University of Michigan for its advantages over traditional learning.
Thousands of structures are meticulously segmented from photographic images of real cadavers to deliver the most accurate real 3D anatomy, including four full body scans, over 1,000 case studies, high-resolution regional scans, and full-body cat and dog cadavers and 150 other CT scans of various animals species.
The case studies consist of CT/MRI scans of clinical and unique pathologies, like brain aneurysms and cancer. The regional scans isolate specific parts of the body, which is useful in understanding how various structures relate. It also includes dynamic anatomical functions like blood flow through the body and respiration."
The table will be used in the School of Nursing and has interdisciplinary applications.
"Biology students can benefit from the anatomy and physiology features," Atmore explained. "The regional scans can show the lungs, which is useful for the respiratory therapy students. Microscopic images of tissues can support students from the Department of Applied Physiology, Health, and Physical Sciences."
The technology is used in undergraduate and graduate classes across majors, including nursing, exercise science, biology, chemistry, biomedical science, veterinary science, and public health.
"Even if you're not studying health sciences and you want to come look at, say, what cancer looks like in the stomach, this can provide tremendous educational value," Atmore said.
The table provides a lab experience students typically don't receive until medical school.
It's a new level of learning for current and future generations of students. "Our students are very tech-savvy and enjoy the use of technology," Evans noted. "The more opportunities that we have for that, the more our students benefit."
Simulation technology allows students to practice high-risk skills prior to entering the clinical environment and provides them the opportunity to improve technique, enhance their level of comfort, and increase speed and accuracy in a low-risk environment. It emboldens discovery, and a growing list of publications show improved learning outcomes.
In January 2020, the university also brought in Melinda Pierce, a Certified Healthcare Simulation Expert (CHSE). She is one of just 2,000 people nationally who have earned the certification, which is designed to improve healthcare simulation through the standardization and identification of best practices.
"Having a CHSE on campus strengthens the quality of education in the SON, CHHS, and the university as a whole. It provides value in simulation, domain expertise, performance and knowledge improvement, a competitive edge, and external validation and recognition," Atmore explained.
The Anatomage Table is a step forward for the School of Nursing and UNC Charlotte in pursuit of its strategic plan.
"It optimizes operations and outcomes by transforming curricula through advanced learning platforms," Atmore said.
To schedule a demonstration of the table, or to reserve the table, please contact Ashton Atmore at aatmore@uncc.edu.