New York Mets and Baltimore Orioles Consult with UNC Charlotte Biodynamics Laboratory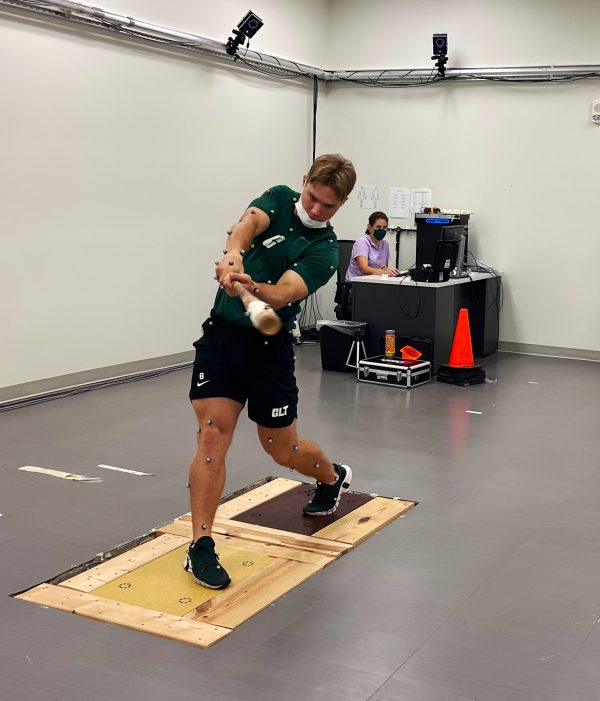 UNC Charlotte is using biomechanical data to enhance hitters' performance and attracted the attention of Major League Baseball.
It all began in the fall of 2019 when the Charlotte Baseball coaching staff approached the UNC Charlotte Biodynamics Research Laboratory about collecting data on their pitchers.
Two years later, Bryce Wheary of the New York Mets and Richard Cosgrove of the Baltimore Orioles were on a plane to see for themselves what the Department of Applied Physiology, Health, and Clinical Sciences and Charlotte Baseball were doing. This time, it wasn't for pitchers—it was for hitters.
Ten years ago, tracking biomechanical data on hitters was unheard of.
"Hitting has a lot more variables than pitching," explained Wheary, "which is why pitching has been far more advanced in terms of data collection."
In the fall of 2021, the coaching staff asked the lab to look at their hitters, and professors Abbey Fenwick and Luke Donovan brought the entire 49ers lineup in.
"We gave them a data set that told them what their motion looks like, how the forces are being distributed, and the timing of different swing styles," Fenwick said.
The researchers placed reflective receptors at targeted points, and the infrared Vicon Motion Capture System recreated the players' movements on the computer.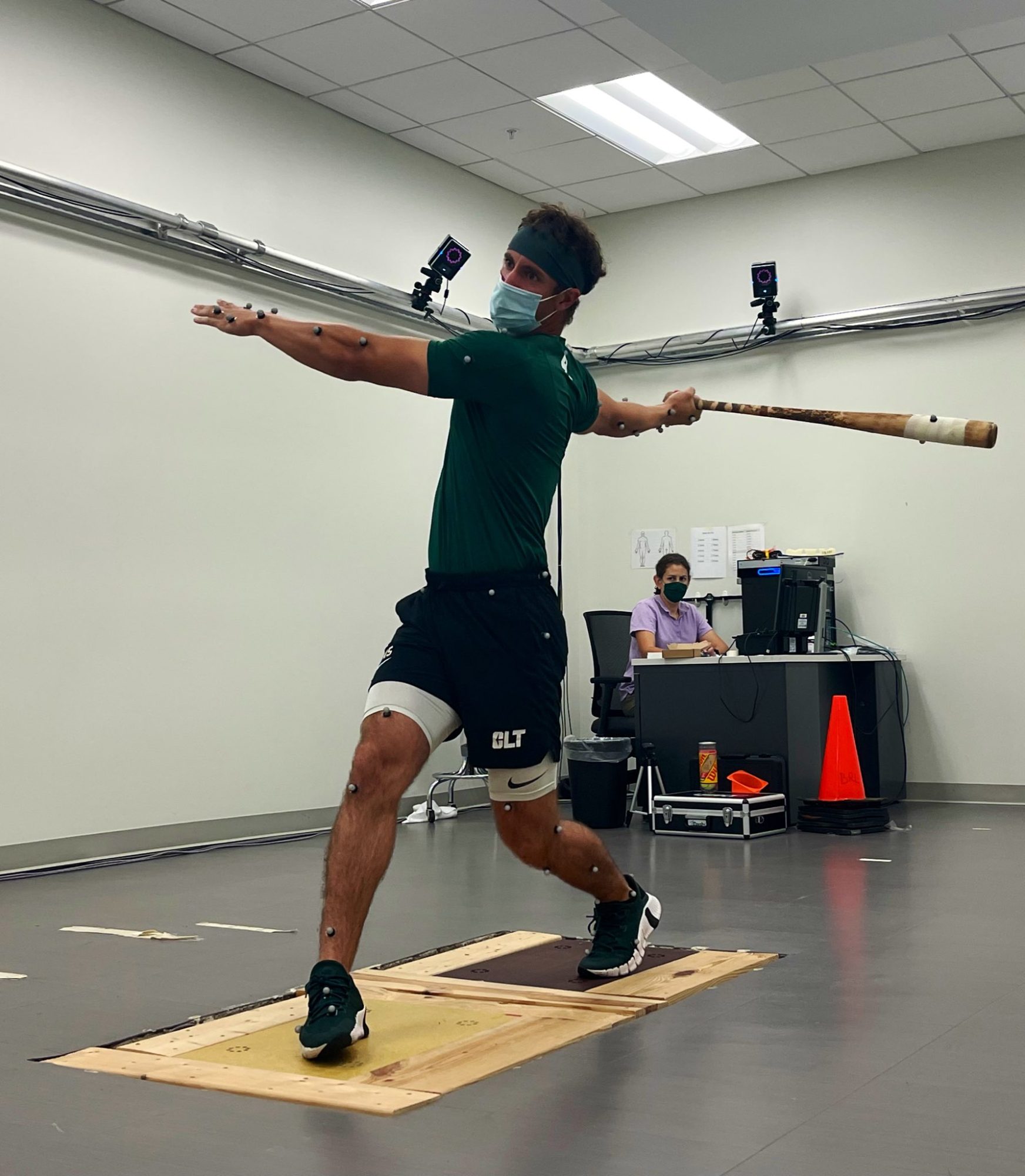 They also used a force plate, which is like a bathroom scale that measures forces, loads, and distribution in three dimensions.
"When we put those two data sets together," Fenwick explained, "we can get the average of their motion and determine whether their swing is as tight, clean, and consistent as it can to be."
When the players were in the lab, they posted it on the Charlotte Baseball Twitter.
Wheary and Cosgrove saw it that same day.
"We follow Charlotte Baseball on Twitter," said Cosgrove, "because UNC Charlotte has a state-of-the-art biomechanics lab, and their baseball program as a whole is very progressive. They have a facility that's making important advancement on hitters."
Right now, baseball teams are trying to translate the data into practical strategies.
"We're still in the initial stages," said Donovan, "and so we're just providing as much raw data as we can. The idea is that each respective group can then look through the data to see if they find patterns from a 3-D mechanics or performance standpoint."
This spring, Fenwick and Donovan are trying to tailor this new approach for the upcoming season.
Fenwick and Donovan spend most of their time researching injury prevention, rehabilitation, and ways to optimize people's long-term quality of life, especially those who are recreationally active and have sustained joint injuries.
"This is the largest scale that we've worked with athletics on this technology to date," Fenwick said. "But we have the ability to provide a service that athletics needs, and I think it's the way of the future for baseball."
"I don't know what the magnitude of this could be," said Donovan. "Where we work well together with Charlotte Baseball is that we have a general curiosity about all things sports medicine-related. And we think that having that conversation is always worth having because you never know where it leads to."
"We have a beautiful facility here at Charlotte, and we hope to broaden the types of research we're doing in there and showcase it," he added.
Wheary and Cosgrove are taking their knowledge back to their respective organizations. "It was an important experience for us," said Wheary. "Abbey and the whole department were amazing."
They also met with the coaching staff while they were here. "It was pretty exciting to see where the college game is going," said Wheary, "and UNC Charlotte is a program to watch out for because of the fresh ideas coming out of there and the exciting things they have working for the team."
---
by: James McDonnell, Communications Graduate Assistant