Meet the Graduate: Priya Patel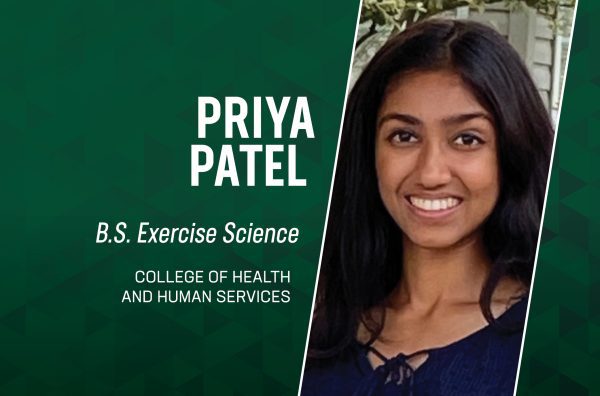 Priya Patel grew up in North Carolina's Lake Norman area. A member of the Class of 2022, she will graduate with a Bachelor of Science in Exercise Science from the University's College of Health and Human Services. An aspiring physician, Patel discusses her Charlotte journey and plans for the future.
What is your degree program and what made you want to study it?
I studied exercise science at UNC Charlotte. My experiences with running track in high school and taking sports medicine courses inspired me to major in exercise science. Running long distance was a challenge for me in high school, but eventually, I came to realize how exercise benefits me physically and mentally. I wanted to find a way to take this concept of how exercise is medicine for the body in my future career and this major has truly guided me to do so.
What motivates you to do what you do?
The ability to know that I am guiding myself, my family and those around me toward proper health motivates me to pursue my career in medicine. The ability to utilize my passions and talents for the betterment of society makes me excited to wake up and learn something new. Most importantly, knowing that God is with me every step of the way motivates me to continue on this path.
Tell me about your experience with your honors thesis. What made you want to do it, and what important findings did the project reveal?
As a member of the Kinesiology Honors program, I defended my honors thesis, "Influence of Chronic Ankle Instability on Physical Activity: A Critically Appraised Topic." I have been assisting with research in the Biodynamics Lab since freshman year and wanted to pursue a topic within the department. My former experiences as an athlete and with musculoskeletal conditions allowed me to connect with the research topics in the department. The project revealed how not all age groups may experience a decrease in physical activity with chronic ankle instability. It is important to seek treatment to minimize symptoms and return to proper physical activity for long-term health.
What has your experience at UNC Charlotte been like, and how did it help you prepare for your career?
My experience at UNC Charlotte has been wonderful. I have received tremendous support from my pre-med advisor and academic advisor in exercise science. The various courses in my major constantly inspired me to pursue new opportunities within the field and find ways to share my knowledge with those around me. Additionally, attending a school close to home has allowed me to stay close to my family while pursuing clinical opportunities with the greater health systems of the Charlotte area.
What are your hopes and plans after you graduate?
With God's grace, I have been accepted to a total of six medical schools. I will be attending VCOM Carolinas in Spartanburg, South Carolina, starting this summer. I am excited to continue my journey and pursue my dream career of a physician.