National Aquatics Leader Roy Fielding Commemorated by Belk Gym Pool Dedication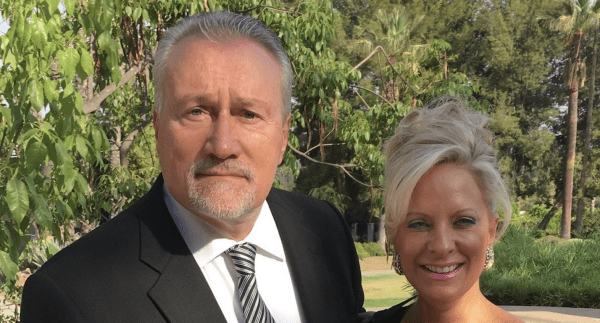 UNC Charlotte honors the remarkable achievements and powerful legacy of one man. Behind the accomplishments emerges the portrait of a complex, self-driven, deeply caring individual who was obsessed with impacting others and reveals practical lessons on a life well-lived.
Belk Gym Pool Named in Fielding's Honor
On a warm late afternoon in April, over 100 friends, family and colleagues of Roy Fielding gathered at the Harris Alumni Center to honor his astonishing career and the lasting legacy he left behind.
The ceremony featured 12 speakers who had been touched by Roy's impact, including UNC Charlotte and University of Northern Iowa faculty and alumni, a retired police major, a councilman for the American Red Cross, the Mint Hill town commissioner and Roy's beloved and devoted niece representing the family, Victoria Westbrook Hargett.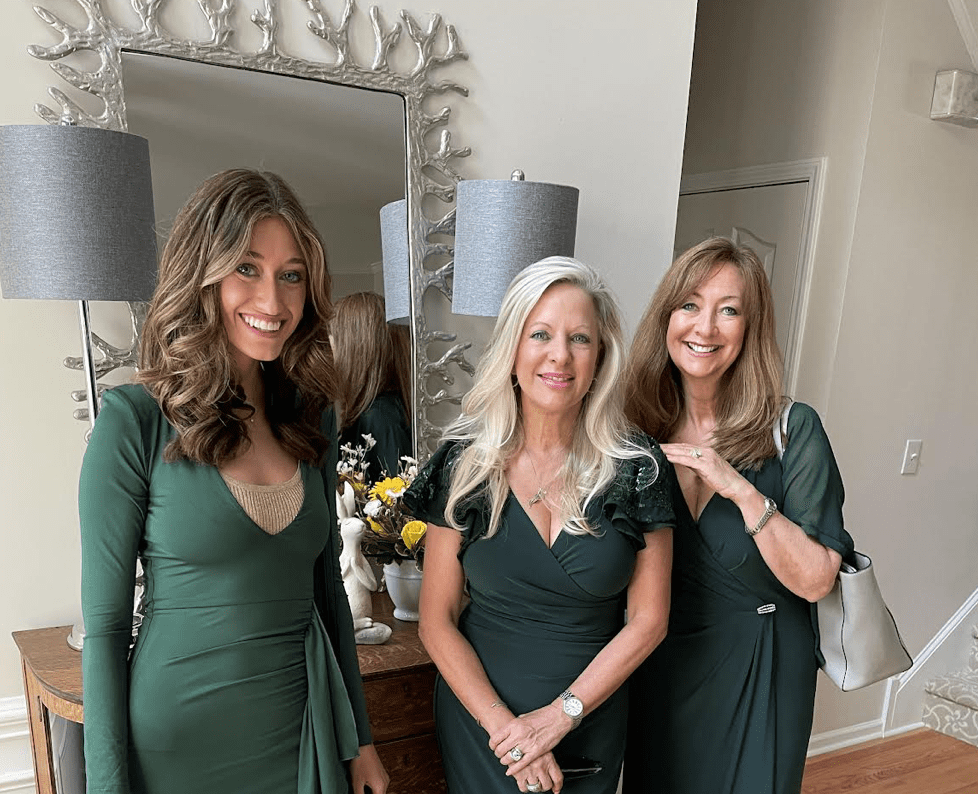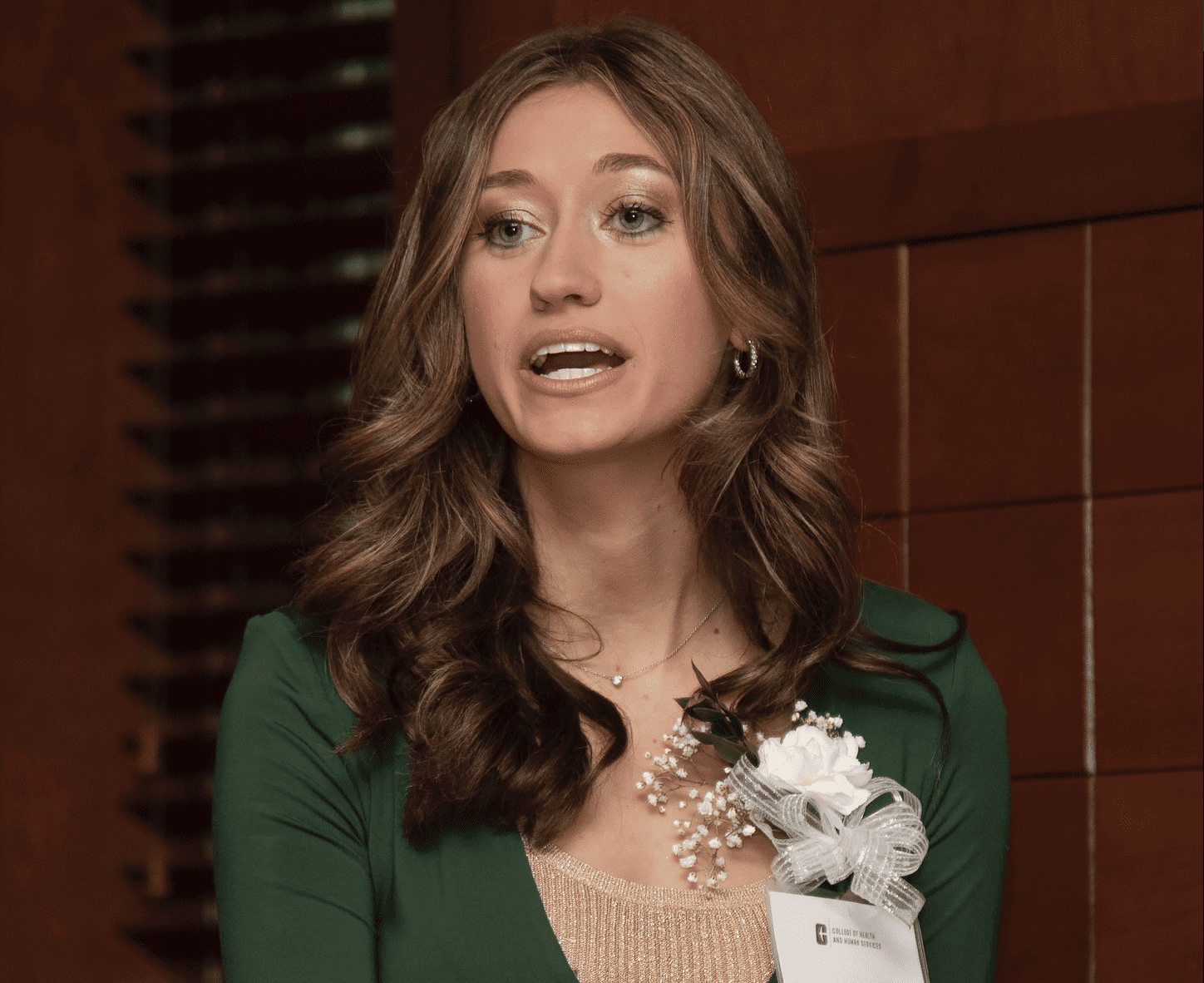 Left: Roy's niece Victoria Hargett, Mary Gaye and sister April Westbrook-Hargett; Right: Victoria speaks at dedication
The celebration of life culminated in Catrine Tudor-Locke, Dean of the College of Health and Human Services, dedicating the Belk Gym pool as the Roy Fielding Aquatic Center.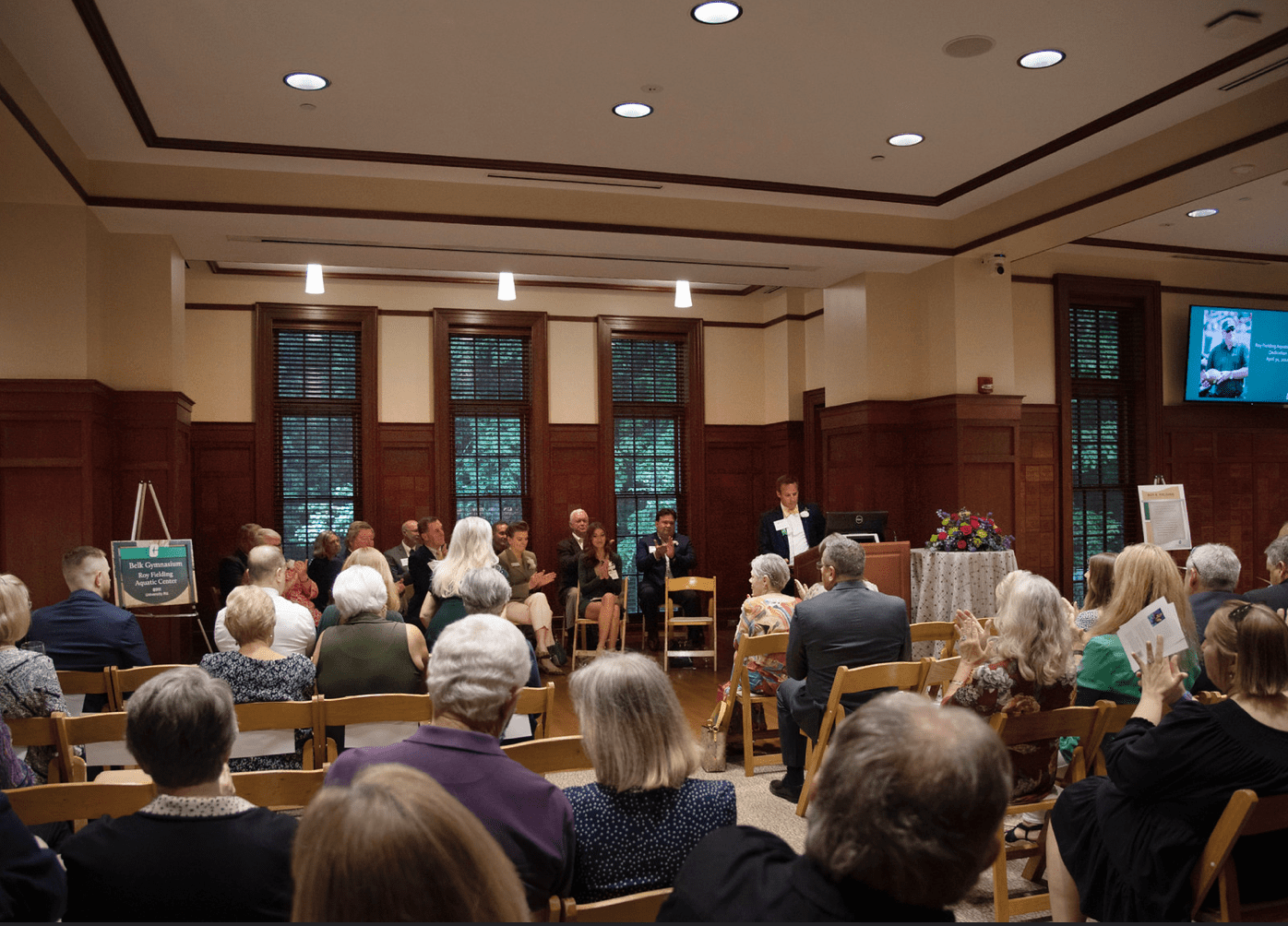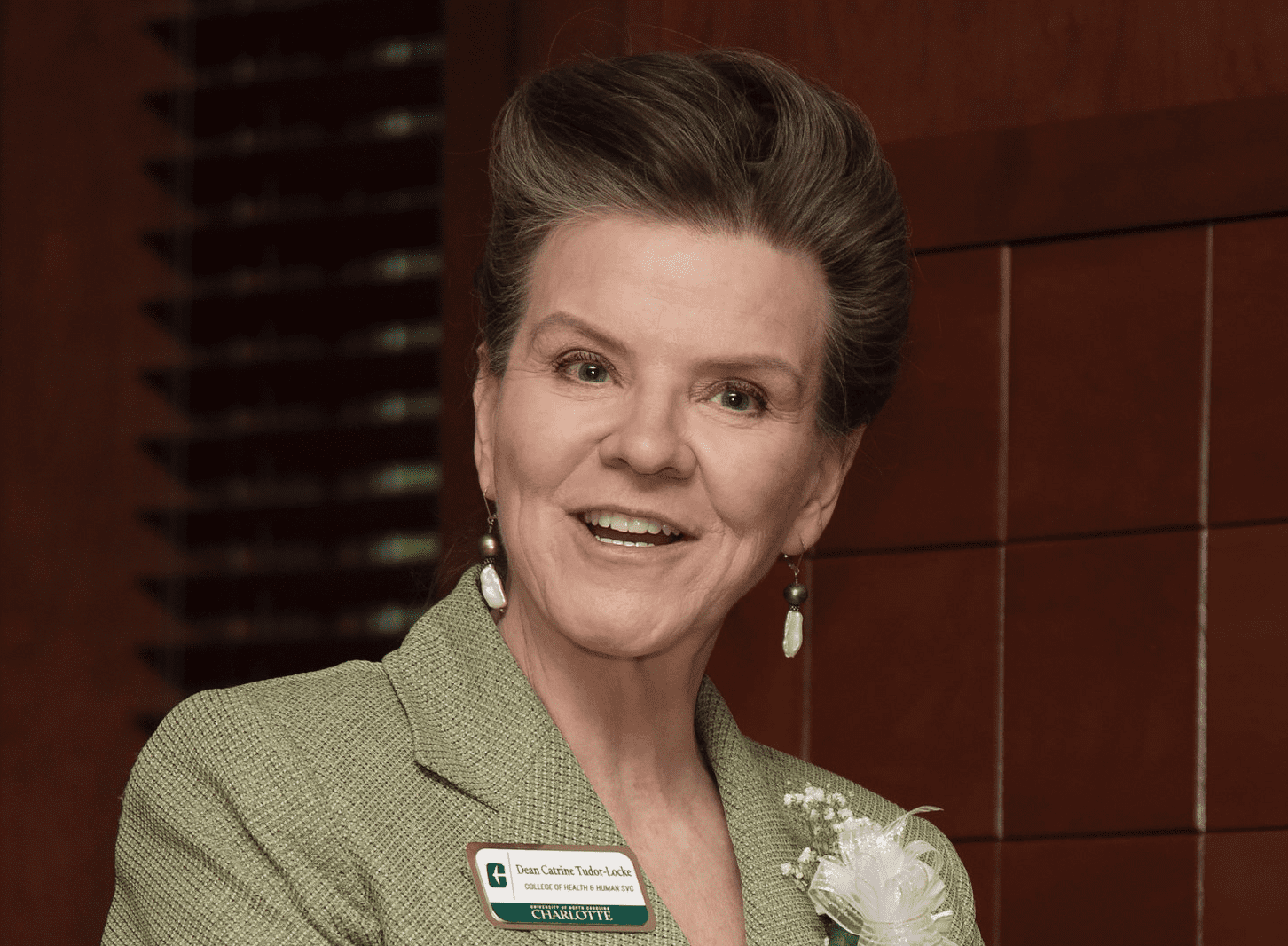 Tudor-Locke, right, offers remarks and dedicates Belk Gym pool to Roy Fielding
In spite of the long-awaited dedication, his wife of 37 years Mary Gaye Fielding said, "People came together today simply because Roy had been so many things to so many people, and a very real void was left in his wake that is unreplaceable."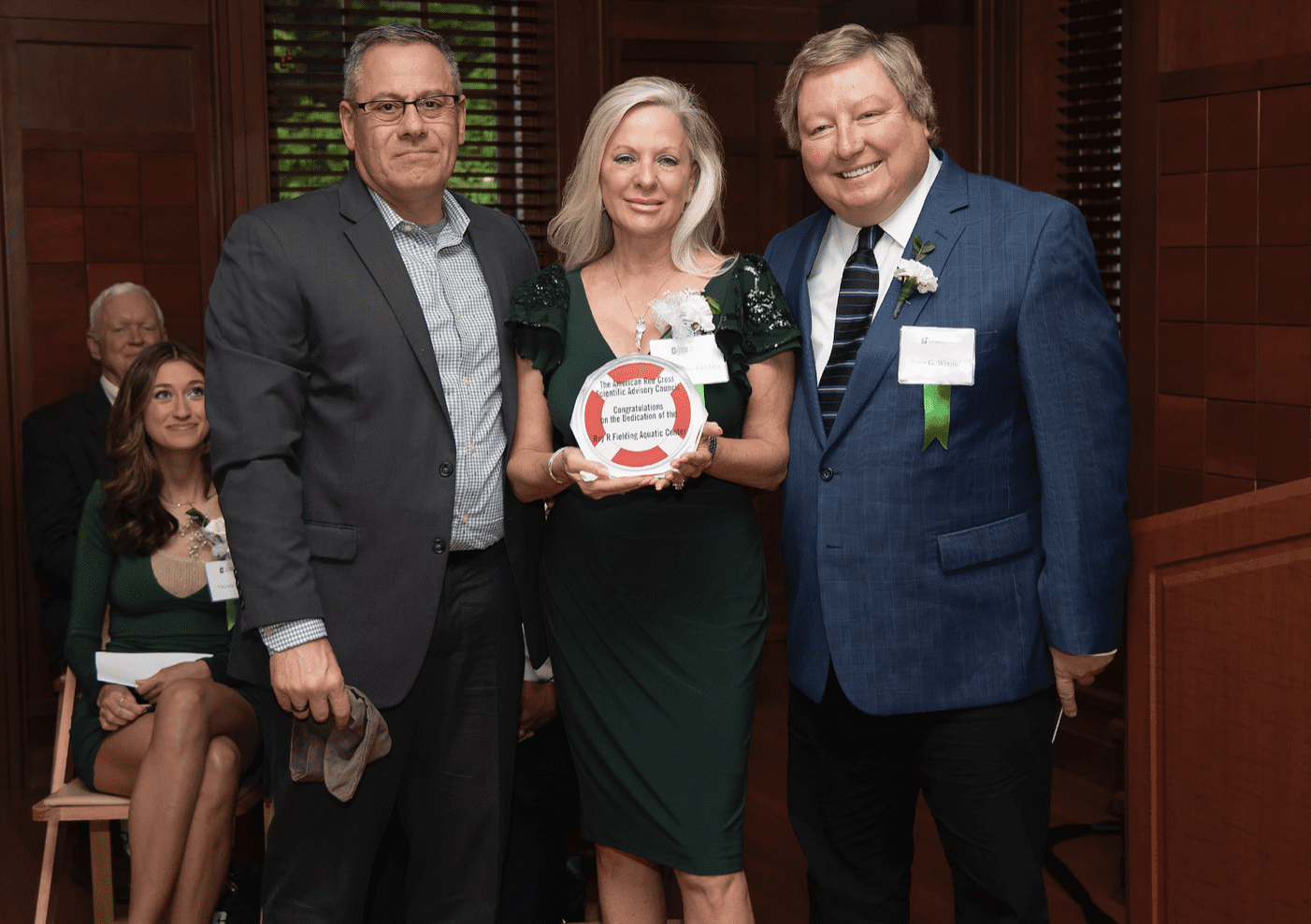 Mary Gaye Fielding, center, accepts Roy's honorary dedication
Roy Lived Many Lives in One Body
It is difficult to write an article that encompasses everything Roy was, or capture in words the magnitude of his impact in aquatics and beyond, because Roy was so busy all the time and had his hand in so many different endeavors that it can seem incomprehensible to the average person.
"We often refer to him as a superhero in our family, because we literally feel that he was from another universe," said Mary Gaye.
Roy was a fixture at UNC Charlotte from the day he first stepped on campus in 1977, and lectured in the Department of Applied Physiology, Health, and Clinical Sciences for 41 years, serving as the university's aquatics director and senior lecturer.
Roy also served as head coach of the Charlotte 49ers men's and women's swimming and diving teams from 1989-92. In 1990, he was named Coach of the Year for both men's and women's swimming by the Atlantic States Conference, and in 1992 he earned Women's Coach of the Year honors from the Southern States Conference.
He was a certified pool operator and instructor, an open water and master scuba diver, diving instructor, lifeguard and water safety instructor certified by the American Red Cross, a collegiate athlete, a department chair, a UNI Hall of Fame member, a mentor, a business owner, a volunteer, a Mint Hill Planning Board member, a husband, a family man and a philanthropist.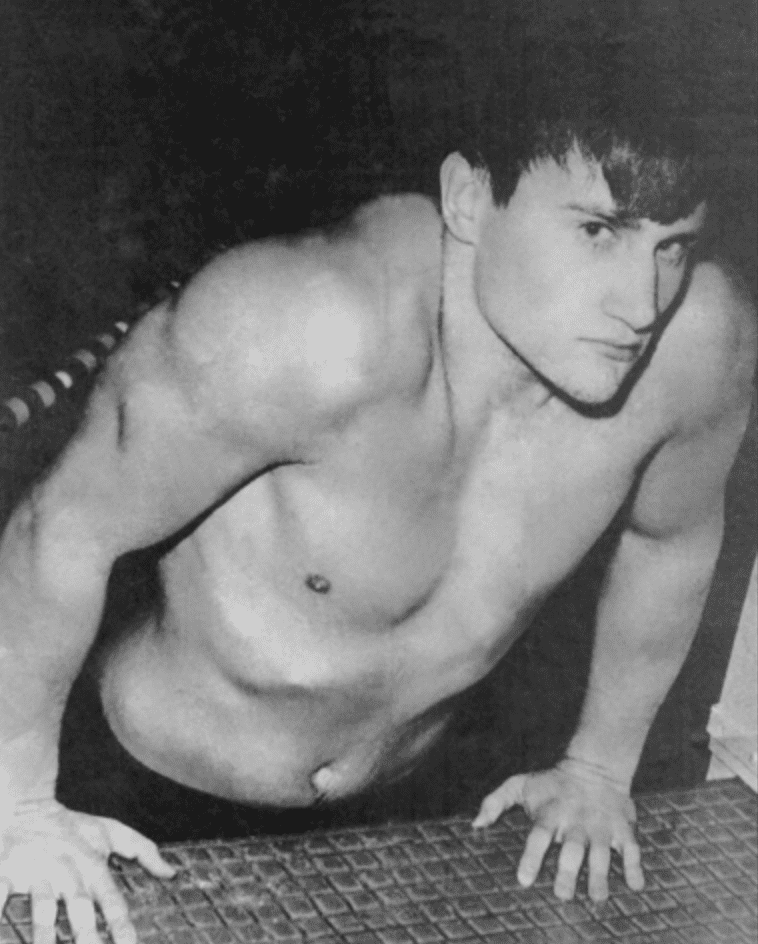 In four years at the University of Northern Iowa Roy earned the Jim Witham Award as the most outstanding swimmer, as well as recognition from the Outstanding College Athletes of America as a senior in 1973. In 2007, Roy was inducted into the UNI Athletic Hall of Fame for Swimming.
"The list of honors, accomplishments and published work accrued throughout his life are truly astonishing," said Director of Major Gifts Dan DeVos. "He was the type of man who operated more than 24 hours a day."
Even in his retirement, he was unstoppable. He continued to manage a thriving business, teach certified pool operator courses all over North and South Carolina, sit on the Red Cross Scientific Advisory Council and join a rowing and a hiking team.
"One day when I couldn't find him at our mountain home, I was certain that he'd be rappelling down the side of the mountain next to our driveway," said Mary Gaye. "That's how much of an energetic force he was in every aspect of his life."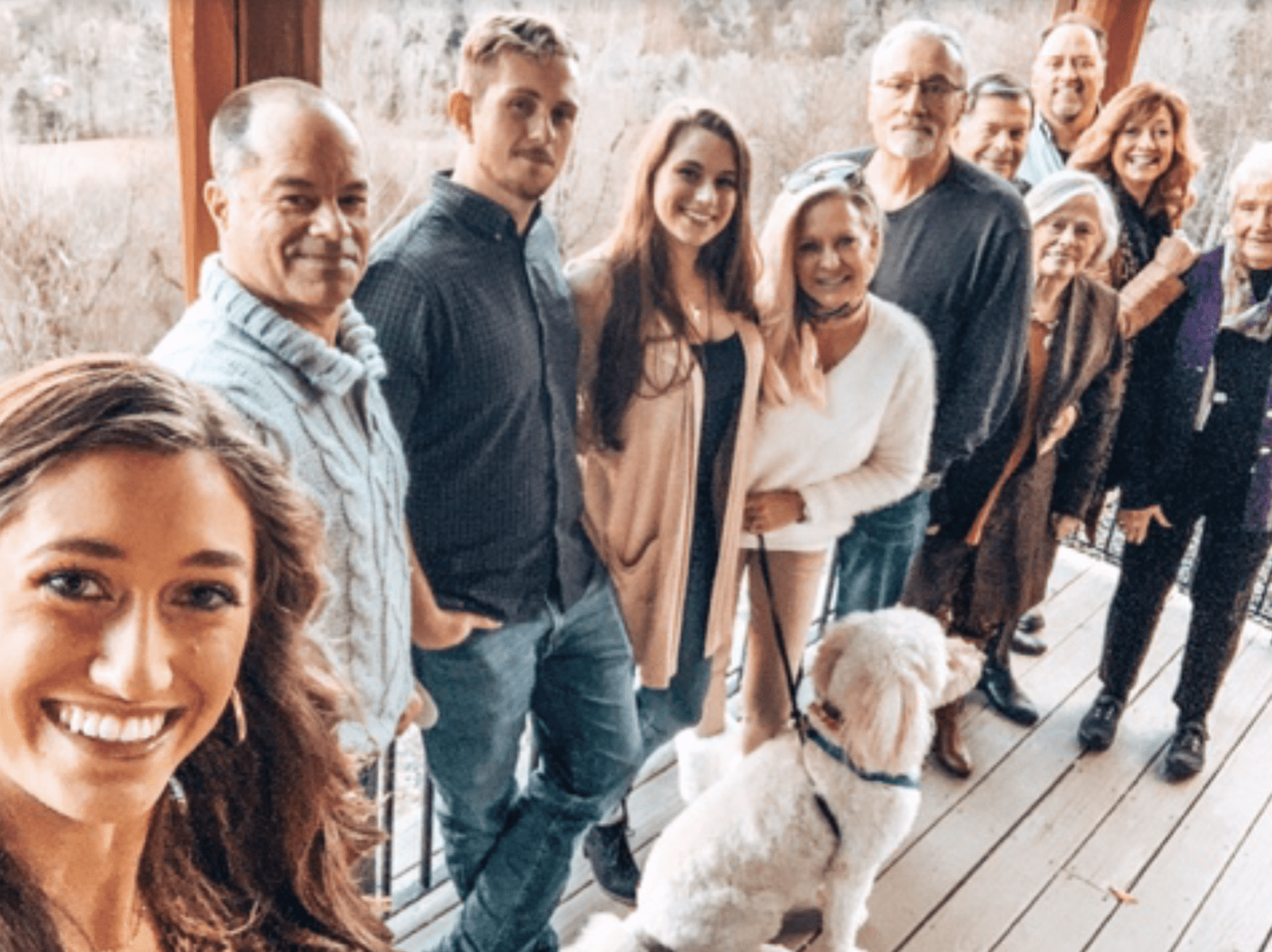 Roy at his mountain home with family. In addition to everything else he did, he was known as a devoted family man who always made time for them.
In 2004, the U.S. Water Fitness Association and Aquatics International Magazine named Roy one of 100 aquatic leaders in the United States, and his name is known internationally among athletic and aquatic communities.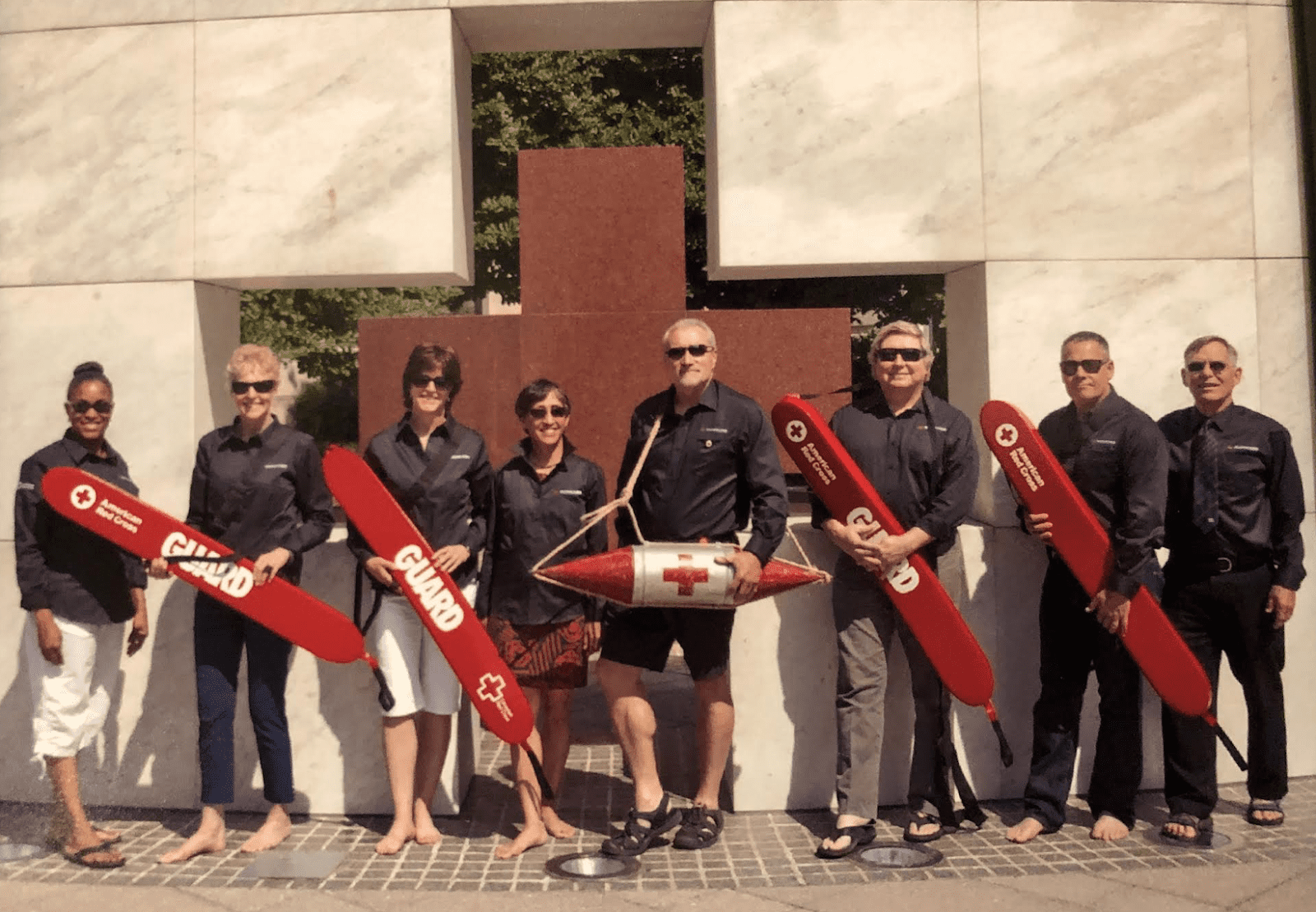 Roy with colleagues at the American Red Cross
This month, he was posthumously awarded the American Red Cross Lifetime Achievement Award for five decades of unwavering efforts towards the mission to save lives in and around water. He is the first ever recipient of the award.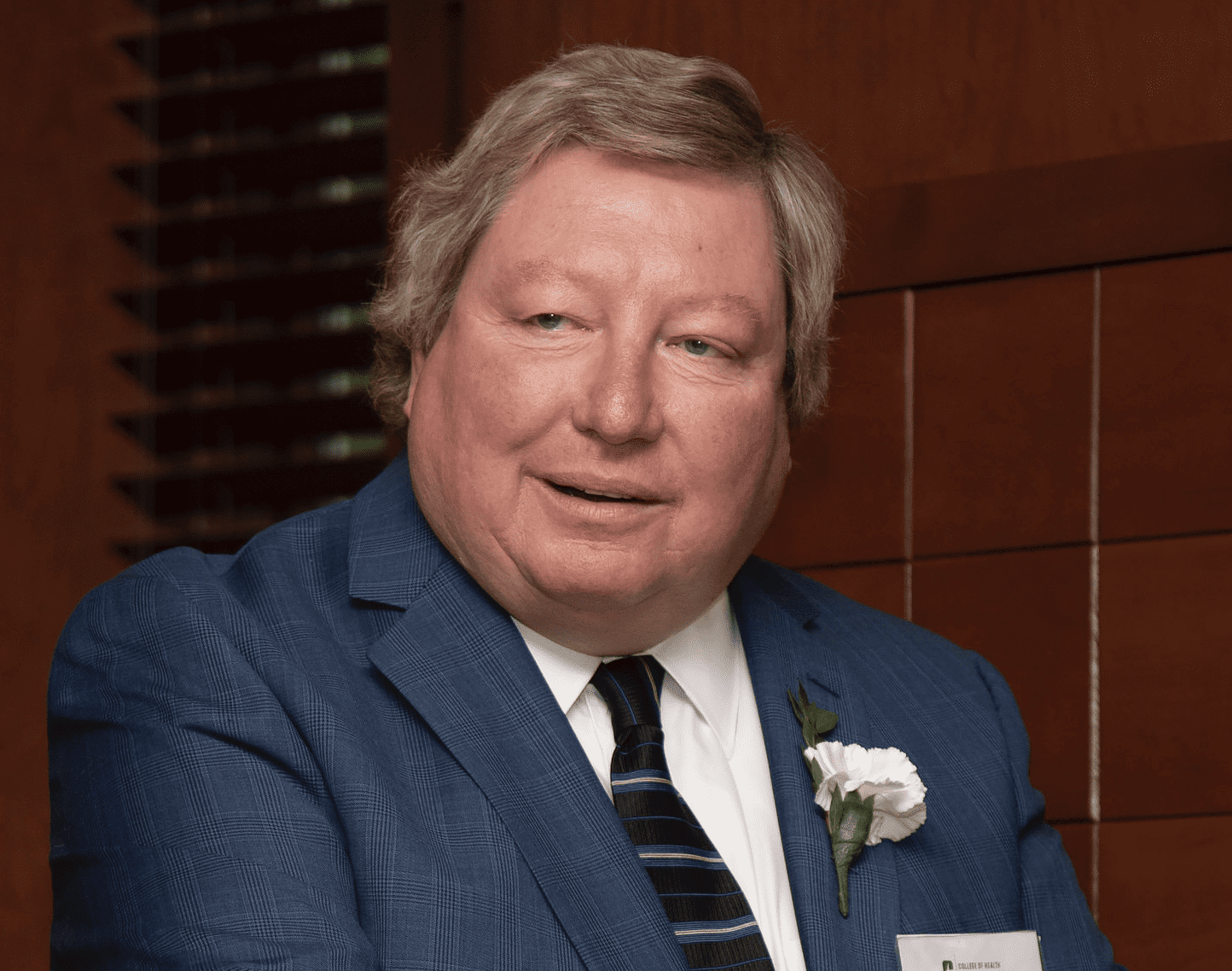 Peter Wernicki of the American Red Cross speaks at the dedication. All the programs that have been developed over the past 20 years—learn-to-swim, water safety, lifeguarding—have Roy's stamp on them, and Roy developed a rescue reporting system that has been used around the nation.
One can't help but be curious about how he found the time. When his wife asked him how he planned to do it all, he simply replied, "I'll be there." And he was.
Others still remembered him as a walking encyclopedia. Any question about water safety, life-saving, drowning prevention, you name it, he could answer on the spot. He was an insatiable learner and was regularly sought out by college students and professionals alike for the depth of his knowledge and experience.
Every day since he passed, Mary Gaye is learning more about her husband's impact.
"I'm getting to know my husband all over again, and I'm in shock and awe about how much he did I simply wasn't aware of. That really speaks to who he was."
The Man Behind the Accolades
It is a rare and special person who is so self-driven, though one that often evades description. Director of university recreation Jim Walczyk remembered simply: "Roy was one of those people you innately know come along once in a generation. When you met him, you immediately knew this person has done and is doing important things."
Roy was born and raised in Cedar Falls, Iowa. As a boy, his mother Jen Fielding instilled in him an unwavering, Midwestern work ethic. Her credo was to do your job to the best of your ability, and if you can improve on it, always try harder. But you never brag and never complain.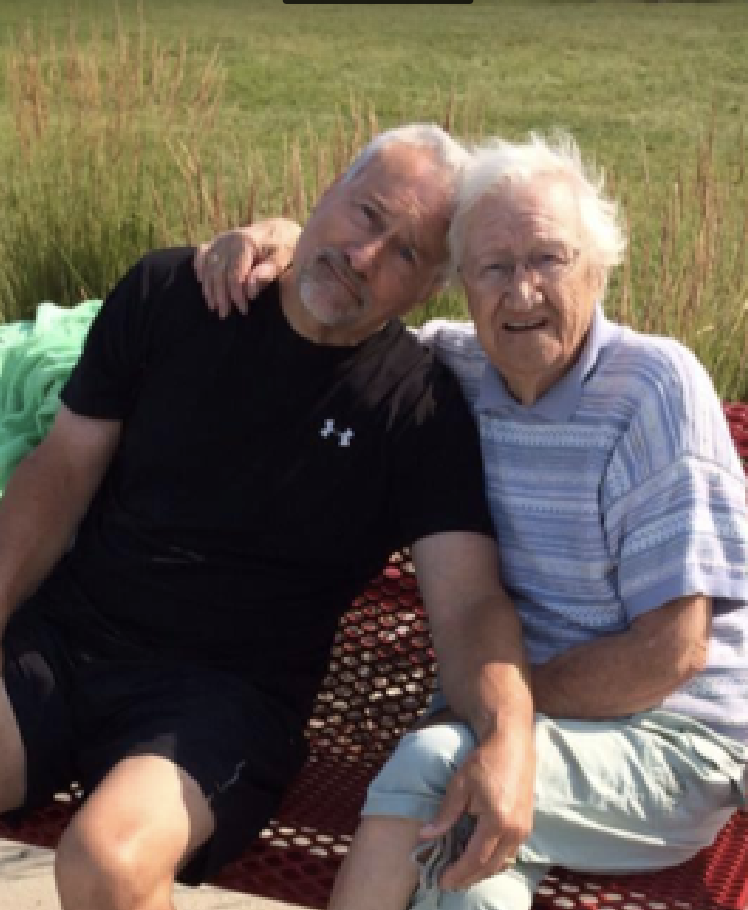 Roy with his mother Jen Fielding
Mary Gaye remembers one evening at their West Jefferson, North Carolina mountain house when Roy laid his awards and honors on the rug as he was unpacking boxes.
"I'm seeing all of these awards for the first time," she said. "And some of them were 15 or 20 years old. He didn't do anything for the praise or the accolades, but because he was so obsessed with making an impact. He also did it because he was constantly setting new limits for himself and wanted to see how he could become a better version of himself."
His mother Jen remained the number one influence for Roy throughout his life. He wanted to make her proud in everything he did, and this continued to push him.
A Lifelong Love of Water
It was also his mother Jen Fielding who first taught Roy to love the water. At 36, Jen learned to swim, became a lifeguard and swim instructor, and taught lessons for 60 years. Her last class was at age 97.
He was also inspired by his lifelong friend Glen Henry. In 1966, Henry hired Roy to manage the Cedar Falls municipal pool.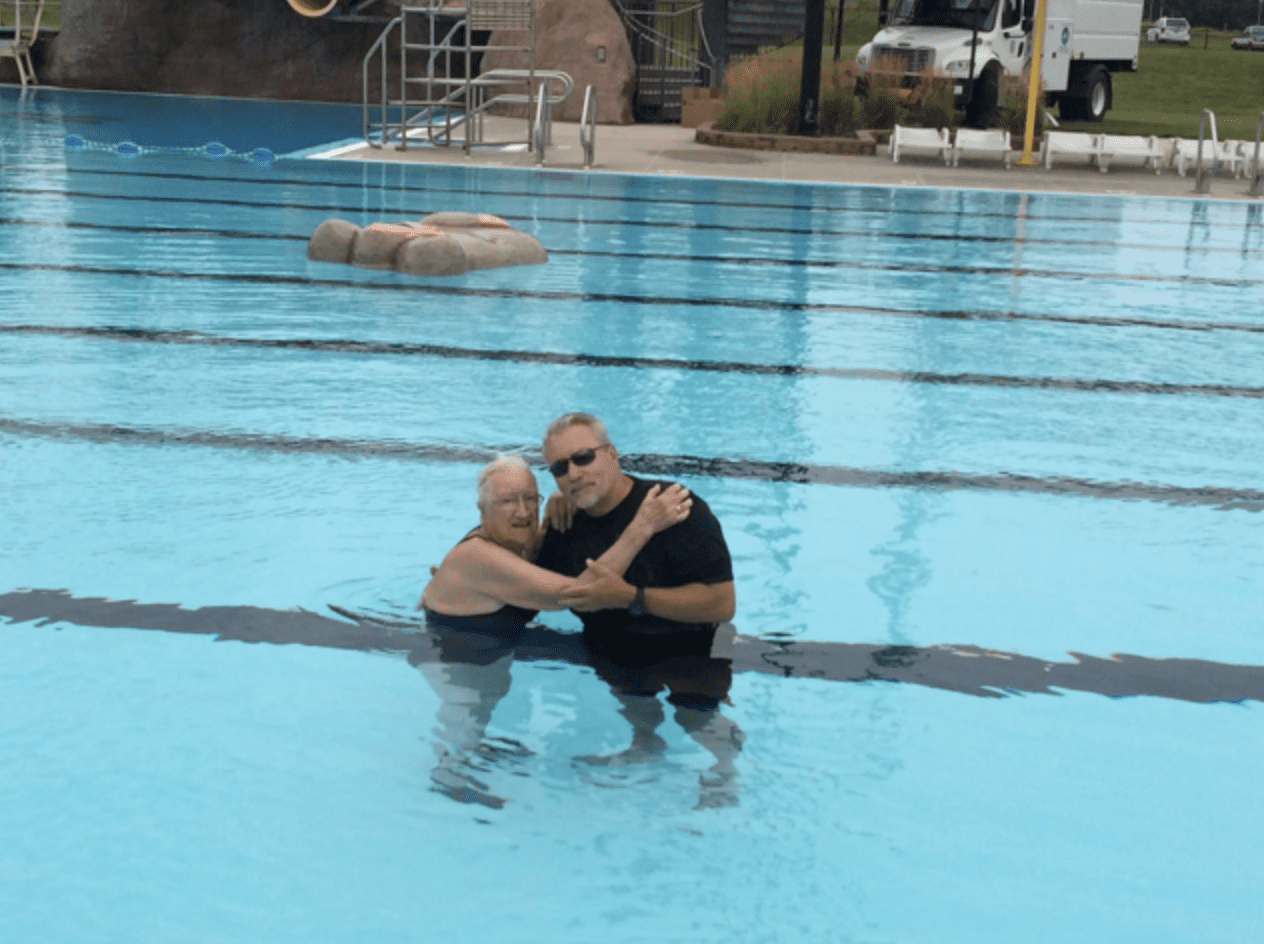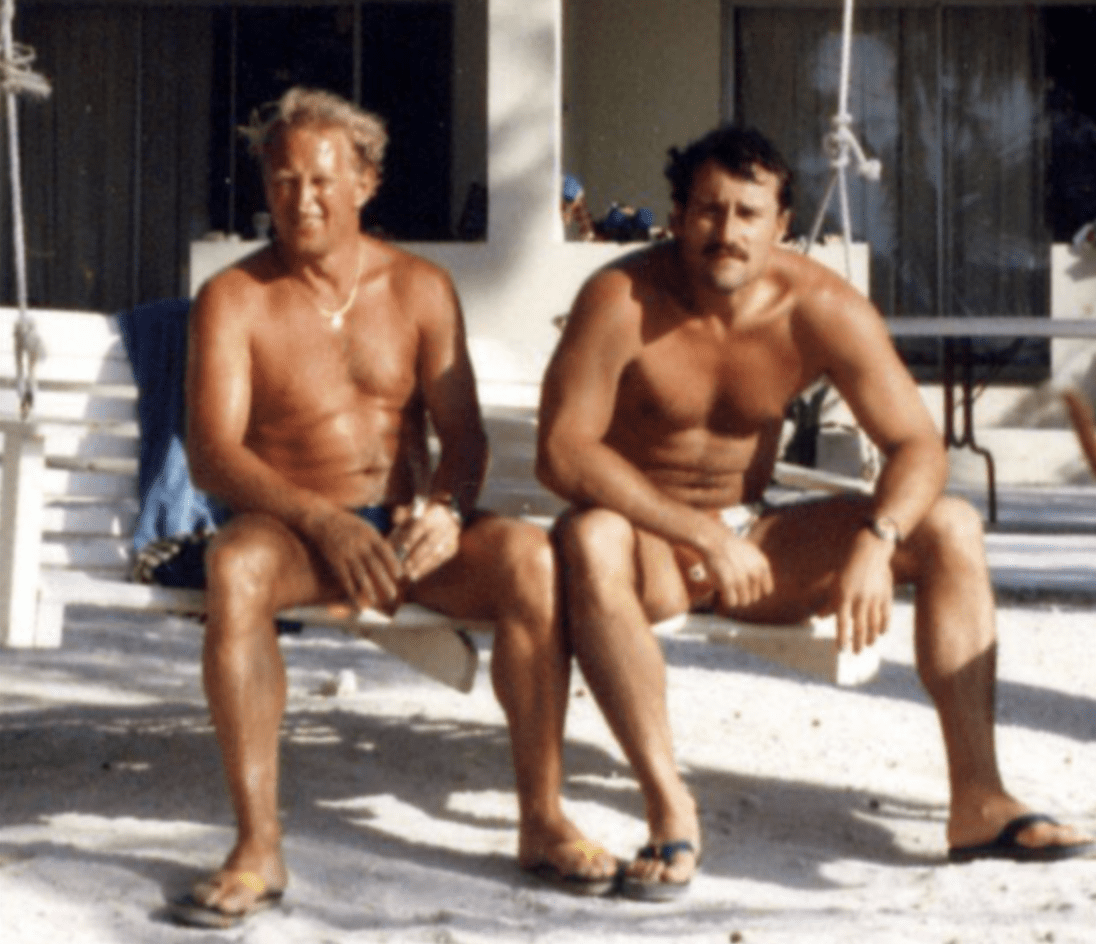 Left: Roy and Jen; Right: Roy and Glen Henry
"Glen told his wife that he had hired Hercules," said Mary Gaye. "He was in awe of Roy's physical fitness and work ethic. In turn, Glen mentored, coached and guided Roy through their careers in aquatics."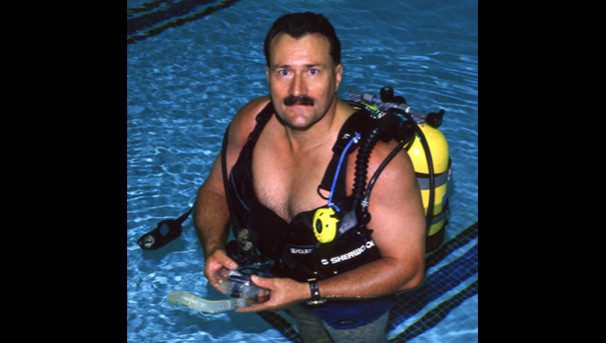 Roy brought diving classes to UNC Charlotte. In his career, he certified hundreds, if not thousands, of divers.
Mary Gaye remembers watching him swim on the diving trips they took across the globe:
He was an absolute athletic force in the water. Watching him go through it, he barely displaced the water. It seemed like the sea creatures seemed to understand that one of their own was swimming with them again, and I feel for sure that he was speaking their language somehow. The water was his lifelong muse.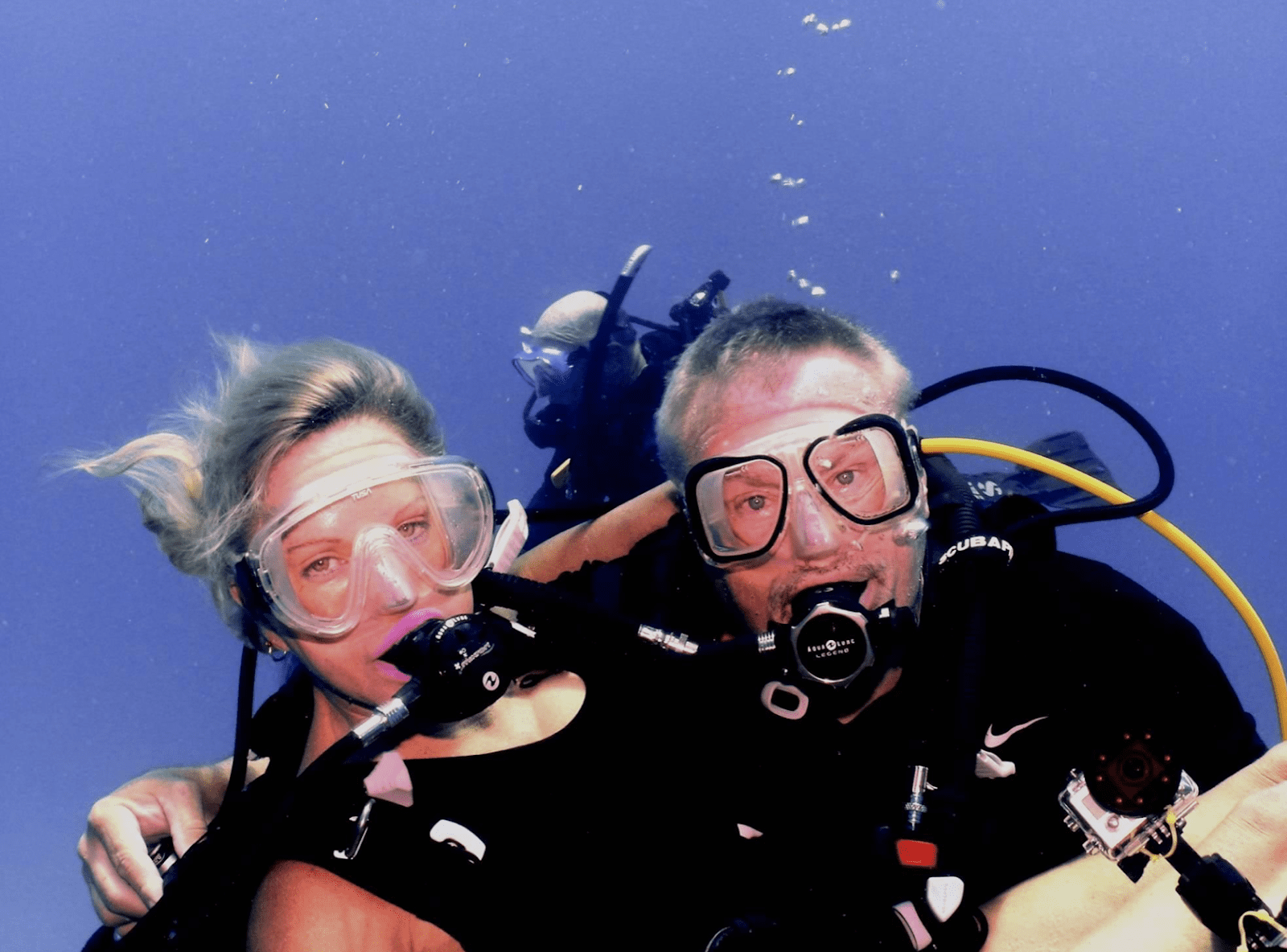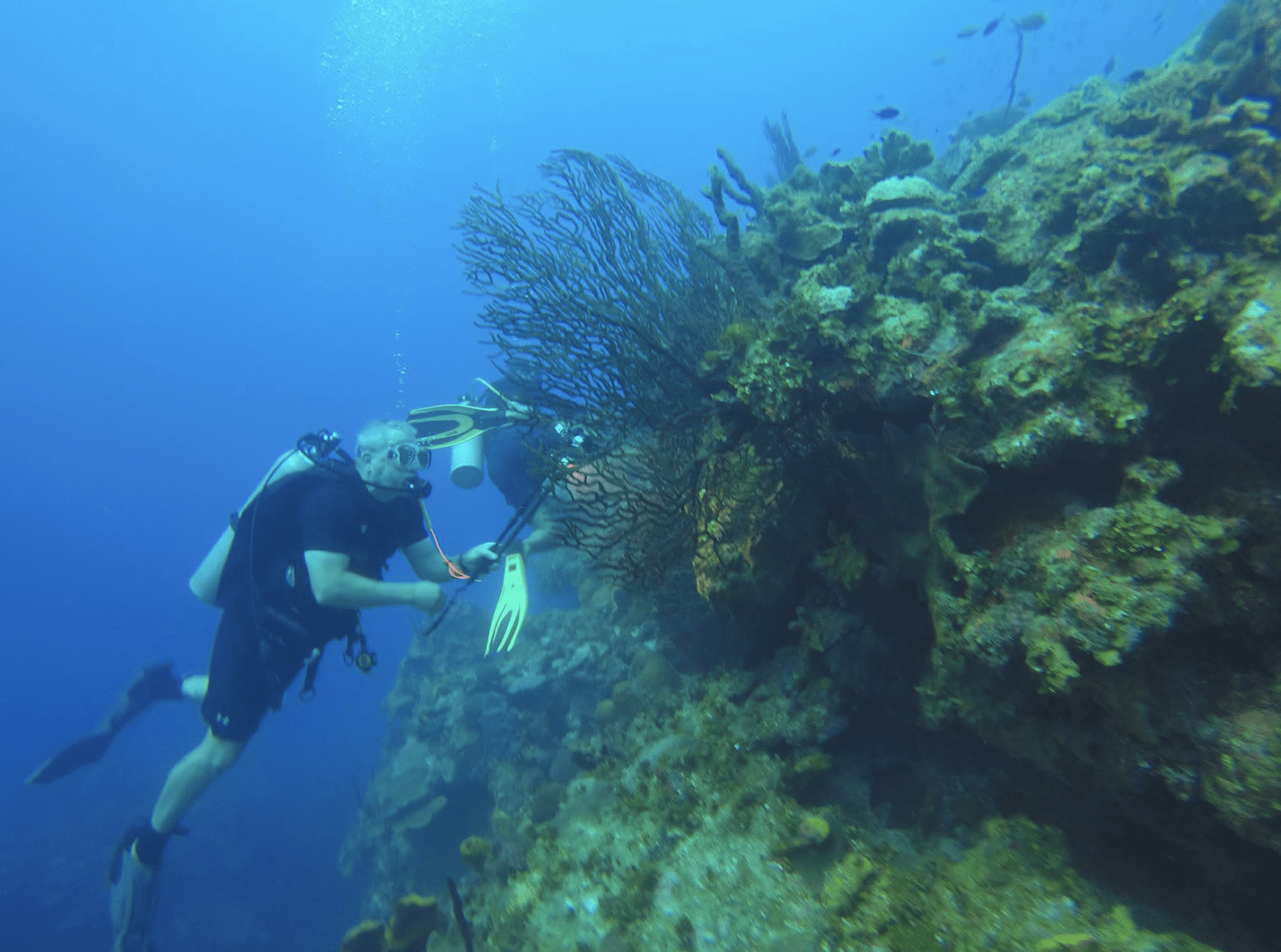 Roy and Mary Gaye diving in Grand Cayman
A Quiet Strength
Those who knew him remember his calm and reassuring strength in the face of challenges. Though a man of few words, he carried an enigmatic, yet magnetic, presence that left people in awe. He was often tough and frank, and he didn't mince words.
Among those who knew him best were his longtime colleagues Judy Rose and Brenda Ward. One of his distinguishing traits, they agreed, was to push people to become better. If he pushed anyone, it was because he saw what they were capable of, and offered his time equally to everyone.
It didn't matter whether you were a Rhodes scholar, the dean of students, or a struggling freshman. Roy accepted everyone, wanted everyone to excel, and offered help to anyone who needed it. He was a leader and problem solver in a way that didn't look like he was leading or problem-solving. His character, strength, personality, and kindness were always welcoming, reassuring and eminently clear-eyed and practical.
"Because of all these qualities, he left an indelible mark on anyone he ever came in contact with. What he possessed can best be described as a quiet strength that he walked through life with. He followed what he loved to do his whole life, and he had one hell of a sense of humor too," Mary Gaye added.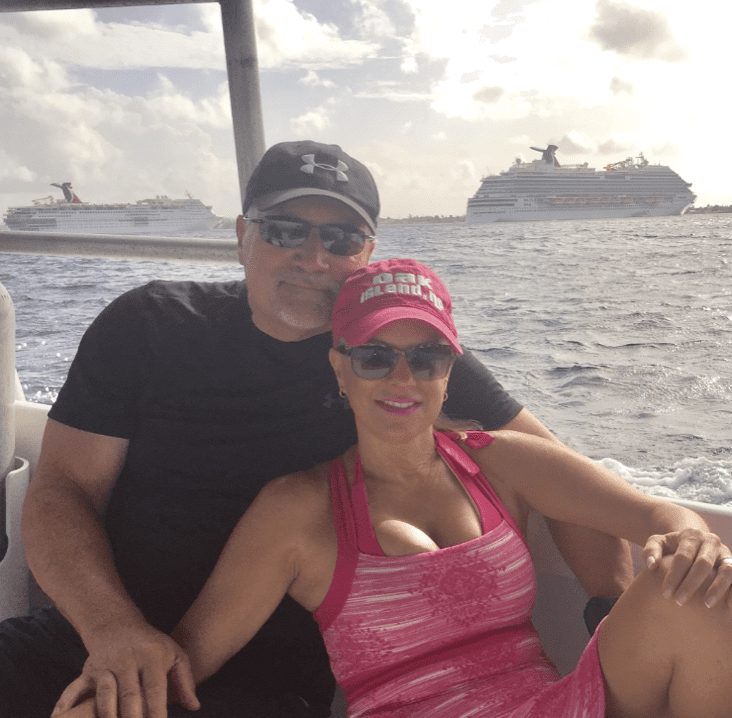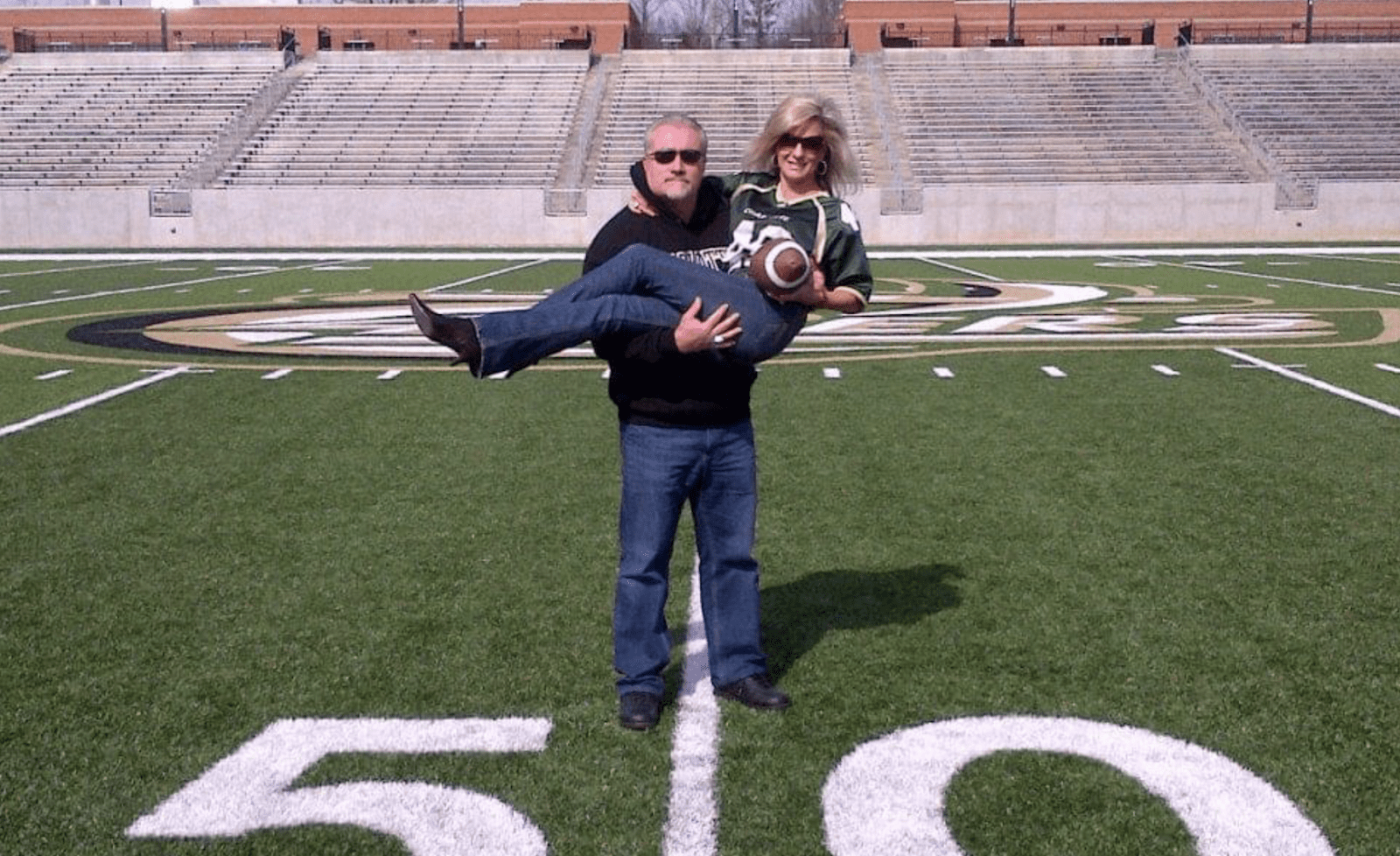 Roy and Mary Gaye had a textbook marriage that she describes as dream-like. Roy was also an avid lover of UNC Charlotte football and often joked he wouldn't retire until Charlotte had a football team.
As one of the most respected professors at Charlotte, Roy made lasting relationships with faculty and students, especially those who sought his advice for their education, their lives and their futures, said Brenda Ward. His leadership and wisdom were unparalleled and he loved working and serving the UNC Charlotte community.
An Enduring Legacy in Education
Above all, he was dedicated to ensuring all had access to a quality education, and what he was most proud of was the impact he had on students. His students revered him, and his dedication to academic excellence was no less remarkable than his aquatic career.
In honor of his commitment to education, he established the Mary Gaye & Roy Fielding Athletics Development Fund and the Roy and Mary Gaye Fielding Scholarship for Applied Physiology, Health, and Clinical sciences students to benefit future generations of Charlotte 49ers student-athletes. He made sure to set this up before he passed.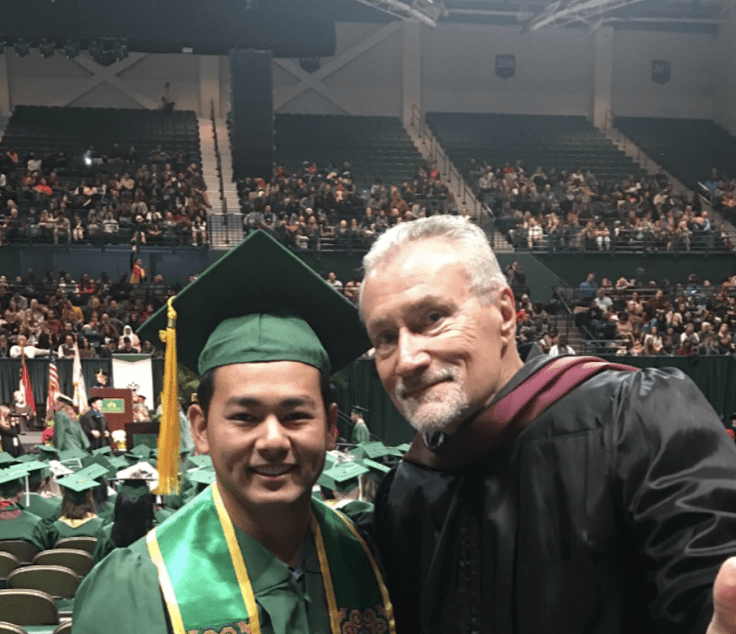 Roy awards degrees at the 2019 commencement ceremony
A crowdfund campaign is live to support memorial gifts for Roy Fielding, the scholarship and the Charlotte 49er Athletics development fund.
In their retirement, Roy and Mary Gaye spent quiet days at their West Jefferson mountain home, where the man behind the honors and accolades found peace in simple joys, family, friends and his dogs.
It is a side of Roy that few saw or knew about. "It was clear he enjoyed our mountain house so much because he needed to recharge, which now I understand because he was so committed to making a difference in every other hour of the day, all the time, for years," said Mary Gaye.
"If you think about those superheroes, when they were called to duty, they went in and were going to be there. Then they took off their cape behind the scenes to rest."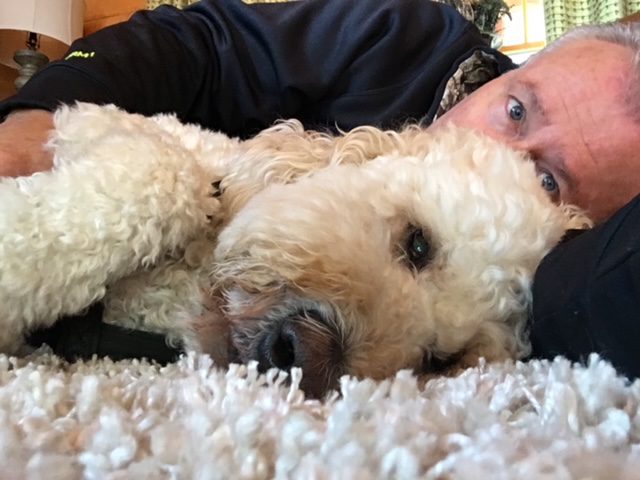 Roy with labradoodle Duncan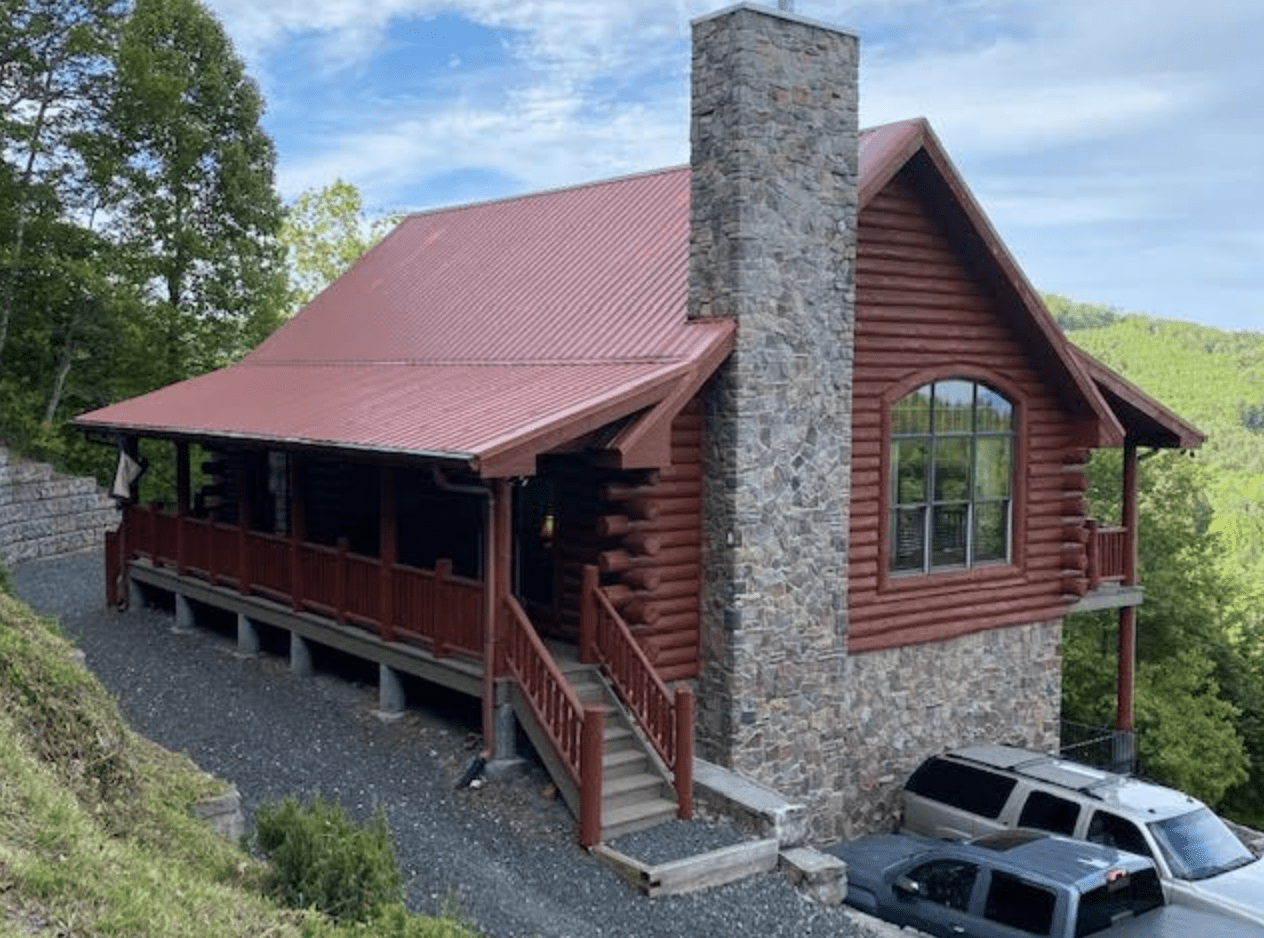 Roy's mountain house in West Jefferson, NC
Goodbye but Not Goodbye
After the dedication ceremony ended and the evening twilight thickened, attendees walked together to the Belk Gymnasium for the official unveiling of the new sign, which now reads "Roy Fielding Aquatic Center." There is also a plaque dedicated to Roy in the lobby that tells the story of his contributions to the university.
The more than 100 attendees lit lights of remembrance in front of the Gym and offered a toast in honor of his life and legacy.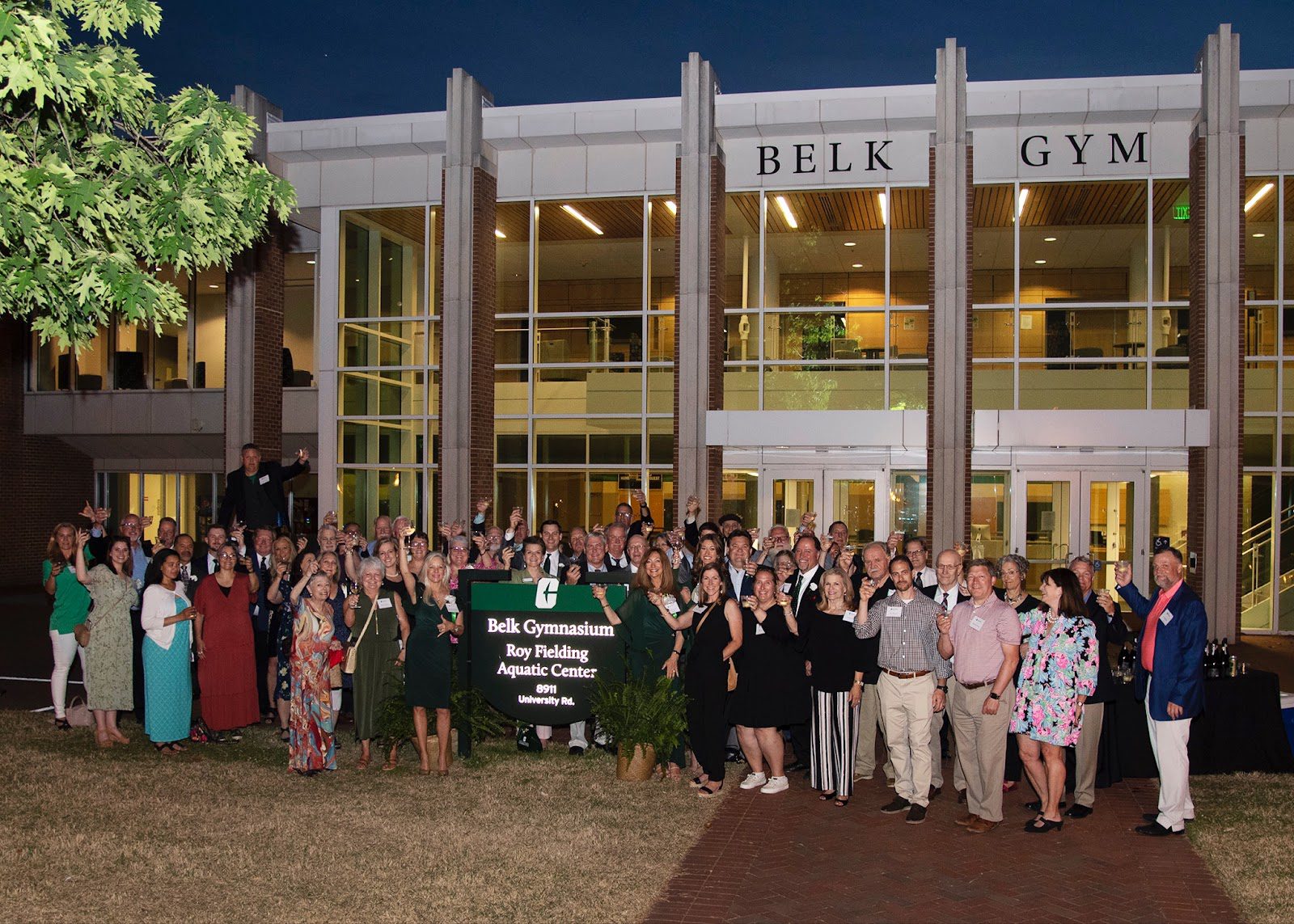 "He's keeping it alive and thriving," said Mary Gaye. "His impact was so extraordinary that he's still keeping us busy trying to reckon with it, and I couldn't imagine a more appropriate place to end the evening than the sign that bears his name in front of the building where he worked joyfully and tirelessly for 41 years."
Roy was a model and an inspiration for anyone who is trying to follow their passion, become the best version of themselves, and have the greatest impact on others. And the building in which he focused his life represents this legacy. Now this space holds his name.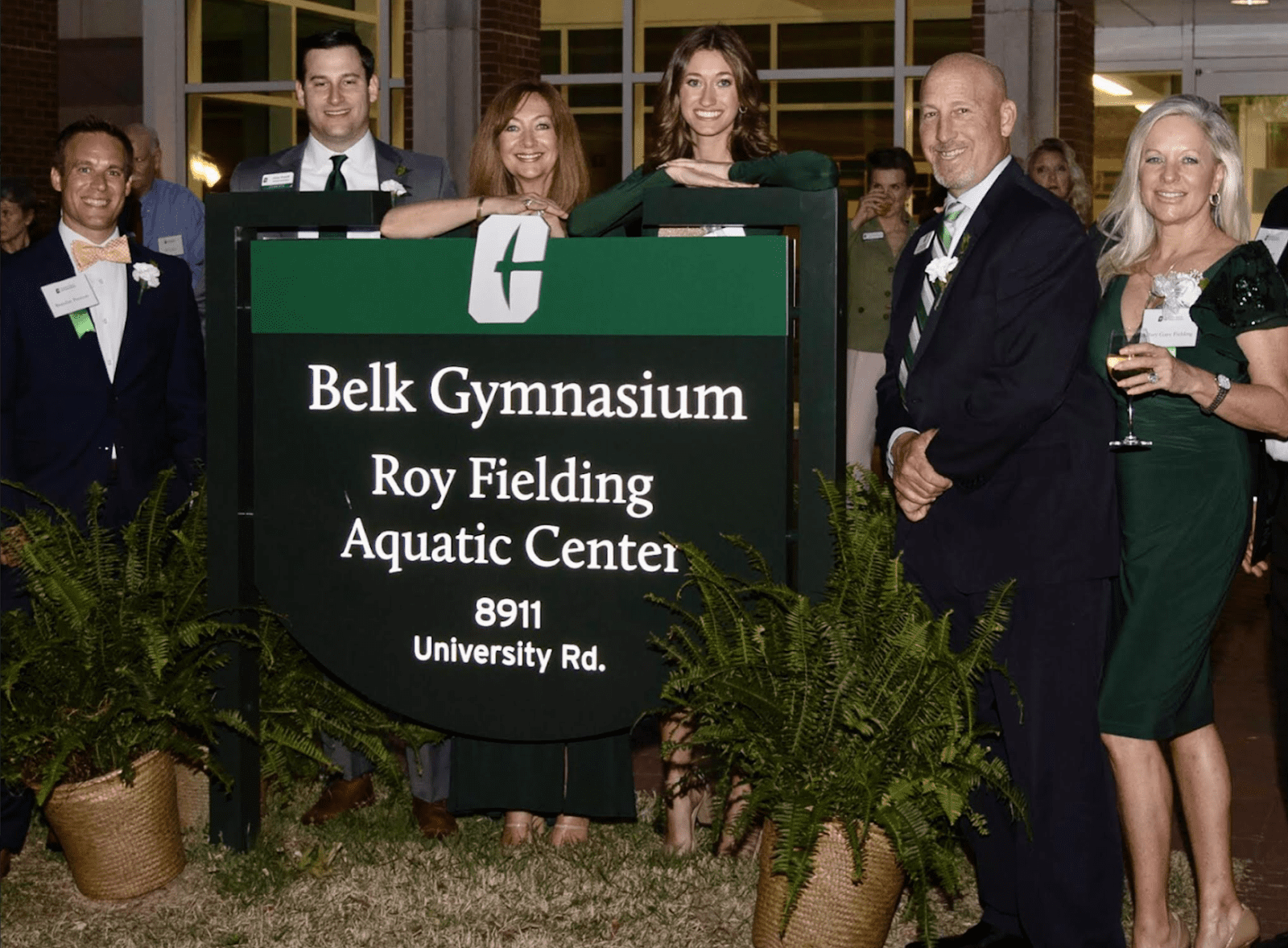 From left: Brandon Prescott, Adam Wassell, April Westbrook-Hargett, Victoria Hargett, Dan DeVos and Mary Gaye
"He had a heart of gold," said DeVos, "and has made a lasting impact on UNC Charlotte and all who were fortunate enough to know him. He is missed by all whose lives he influenced here at our home in Charlotte and beyond."
"Though he's moved on and his work here was done," said Mary Gaye, "he was called away to a new place, where all his talents, wisdom and superpowers are needed. He is doing great things somewhere else. Yet should you find you want to speak to him and ask his advice, you might come to this sign here in front of the Belk Gym and find him in."