Postdoctoral Research Assistant Teams Up with Dean Tudor-Locke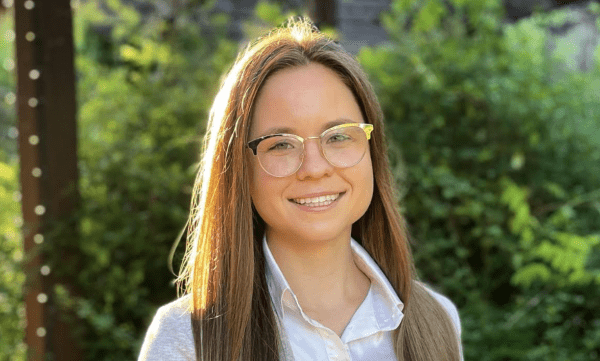 Agnes Bucko overcame many odds since her parents migrated from Poland. As a first-generation American citizen, she is now leading the next generation of public health research.
Each year, students who have finished a Ph.D. apply for research positions all over the world.
"Research is happening all the time in all types of settings," explained Agnes Bucko, a postdoctoral researcher at UNC Charlotte. "Whether it's in academia, a government institution like the CDC or NIH or the corporate world, like FitBit and Apple."
The research she's doing now at UNC Charlotte looks at how cadence, or steps per minute, is associated with physical activity intensity in children and adolescents aged 6-20.
Funded by the National Institute of Health, it's called the Skyrocket Study. The co-principal investigators are Catrine Tudor-Locke, dean of the College of Health and Human Services, and Laura Dunn, professor in the Department of Public Health Sciences. Dean Tudor-Locke is one of the world's top researchers in physical activity assessment and promotion.
"Instead of telling people the physical activity guidelines say participate in 60 minutes of moderate to vigorous physical activity every day, which is vague, our goal is to create easier and more quantifiable guidelines for people so that they understand whether or not they're actually meeting these physical activity recommendations and best practices," Bucko said.
It can also have important implications for children. Part of Bucko's larger goal is to be able to make recommendations on how to incorporate physical activity into schools to facilitate learning and promote healthy lifestyle habits.
Her research in her doctoral program, which involved using wearable devices to track the physical activity of children over time, aligns closely with the Skyrocket Study. She chose UNC Charlotte over other postdoctoral options because she will be working under Tudor-Locke's mentorship, which will give her experience specific to physical activity measurement across the developmental span under the tutelage of one of the world's foremost researchers.
"If there is such a thing as rockstars in the research world, Catrine is one of them," said Bucko. "She is one of those people where if you go to a conference and she walks in the room, everyone's going to want to talk to her or have a moment with her."
For Bucko, who is a first-generation American citizen, it's similar to a residency for a medical doctor. It's an opportunity to get hands-on research experience, hone her grant writing skills, develop professional connections and figure out where she wants to land. Above all, she wants to do impactful research.
Her parents moved from Poland and settled in Chicago. For her undergraduate degree, she attended Loyola University-Chicago, where she double majored in psychology and Spanish and minored in Polish.
She began doing research on language development in kids, and found she loved the work. At the time she was also working two jobs, one at a posh, upscale gym and the other as a volunteer at a free health clinic as a translator.
"Seeing firsthand the disparity between two different segments of society, both of whom want to be healthy, raised questions of who has access, and it ignited my interest in public health and shaped a lot of my work," she said.
She earned a master's in psychology from Arizona State University, where she shifted her focus onto behavioral health. She then got a Ph.D. from the University of South Carolina and made professional contacts with those who knew Tudor-Locke.
Her path has had multiple points of inspiration, she said. First, going to college in the first place. Her parents never had that opportunity. Second, the realities she witnessed in her work experience. Third, a growing interest in public health research, exercise science and preventive medicine.
"If research is your interest you can make yourself marketable by learning as many skills as possible and knowing how to apply your skills," Bucko said.
"Dean Tudor-Locke has an impeccable reputation for helping develop her postdocs and graduate students. She's great at mentoring, connecting you to the right people, and helping you find work after your postdoc. Deans are not exclusively administrators at UNC Charlotte, but leaders in their respective fields."
Dean Tudor-Locke said, "While I'm a research-active administrator, it is mentoring that brings me my greatest sense of satisfaction. This is my opportunity to give back and watch others learn, problem-solve, lead, and grow their potential. I see a little of myself in each of my mentees, and Agnes' determination and willingness to collaborate will assure her success long into the future."